It doesn't matter how many times I've had it or how simple it may appear to be, the Margherita pizza is still one of my absolute favourite Italian dishes. It has a rich history that allegedly began in the summer of 1889; 28 years after the unification of Italy.
Queen Margherita of Savoy was visiting Naples and wanted to taste the pizzas the city was so famous for. Chef Raffaele Esposito then created one resembling the colours of the Italian flag; red (tomato), white (mozzarella) and green (basil). The Queen adored it so much that Chef Raffaele decided to name it after her; the Queen Margherita pizza.
However, according to some historians, the Margherita pizza of tomato, mozzarella and basil was known and named in Naples well before 1889. Instead, it got the name due to the fact that its crust took the shape of the marguerite daisy. While the true origin may be disputed, what you can't dispute is its popularity; pizza is perhaps the most popular food in the world and the Margherita is the most popular type of pizza. Why not come and try mine at your local Italian Street Kitchen. 
How to Make Italian Margherita Pizza
I would tell you this when making any traditional Italian food, but if you want to make the best Margherita pizza, you need to use the best quality ingredients. 
Hopefully by now you've already enjoyed pizza at one of my best Italian Restaurants so you know that choosing high quality ingredients is completely worth it. While the method is a little different to what I do at Italian Street Kitchen, here's my homemade margherita pizza recipe: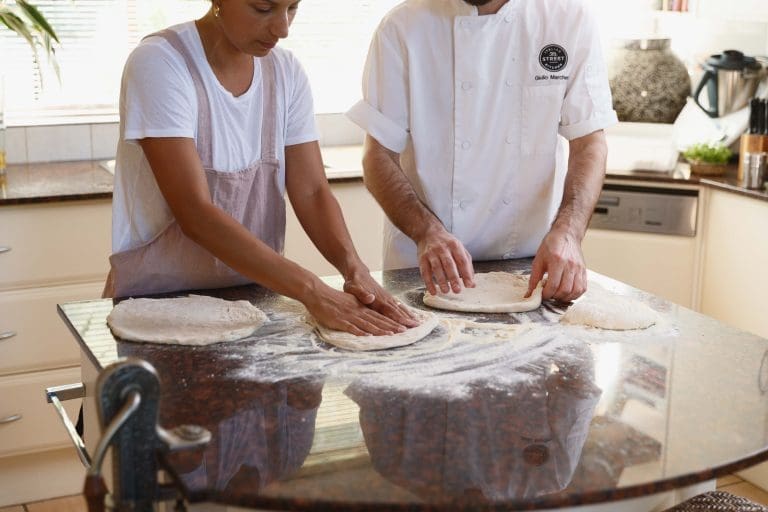 Ingredients (Makes 2 Pizzas)
Dough:
150 grams 00 flour

150 grams all-purpose flour

8 grams extra-virgin olive oil (2 teaspoons)

8 grams fine sea salt (1 teaspoon)

2 grams active dry yeast (¾ teaspoon)
Topping:
2 cups of peeled tomatoes

2 pieces of buffalo Mozzarella

5 fresh basil leaves, roughly torn

Extra-virgin olive oil
Making the Dough
One of the great things about making pizza dough is that you don't need any special tools; you'll be using your hands just like I do at Italian Street Kitchen.
Firstly, combine the flours and salt in a large mixing bowl.
In a separate, small mixing bowl, stir together 200ml of lukewarm tap water, the yeast and a little extra-virgin olive oil, then pour it into the flour mixture. Knead with your hands until well combined, which should take a few minutes.
Once it's properly combined, let the mixture rest for 15 minutes. After that, knead the rested dough for three minutes. Cut into two equally sized pieces and shape each into a ball with your hands.
Place the balls of dough on a heavily floured surface, then cover it with a dampened cloth. Let the dough rest and rise for 3 to 4 hours at room temperature.
After the dough has risen, place each ball on a heavily floured surface and use your fingers to stretch it, before shaping them into round, flat bases.
Put each base on an oven tray or pan.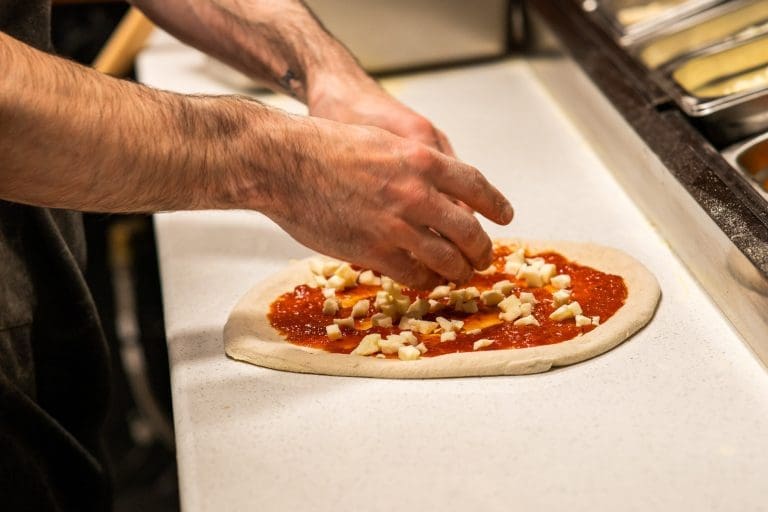 Adding The Topping and Baking
Preheat the oven to 240 degrees.
Break up the peeled tomatoes with your hands or a fork, and lightly salt them.
Evenly spread the tomatoes over the 2 pizzas and bake with the tray/pan on the bottom shelf of the oven for the first 5 minutes.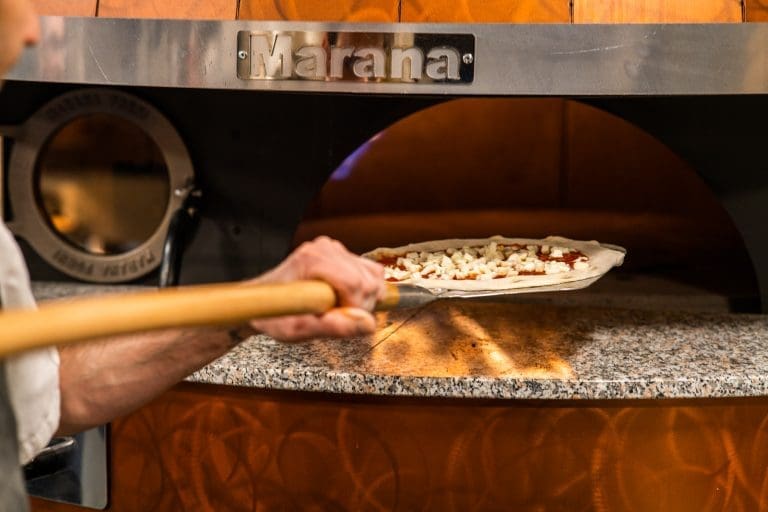 Remove from the oven.
Add pieces of buffalo mozzarella and shredded basil leaves evenly over the pizza bases and drizzle with olive oil.
Move them to the middle oven rack and bake for another 7 minutes.
Remove from the oven and serve.