Negroni is a classic Italian cocktail that I've grown to absolutely adore over the years. While the strong alcohol content and slight bitterness makes it something of an acquired taste, people tend to appreciate it more and more with time. It's what we call an 'aperitivo' in Italy, which is a pre-meal or pre-dinner drink; its dryness is perfect for stimulating the appetite before enjoying some fine dining at the best Italian restaurant.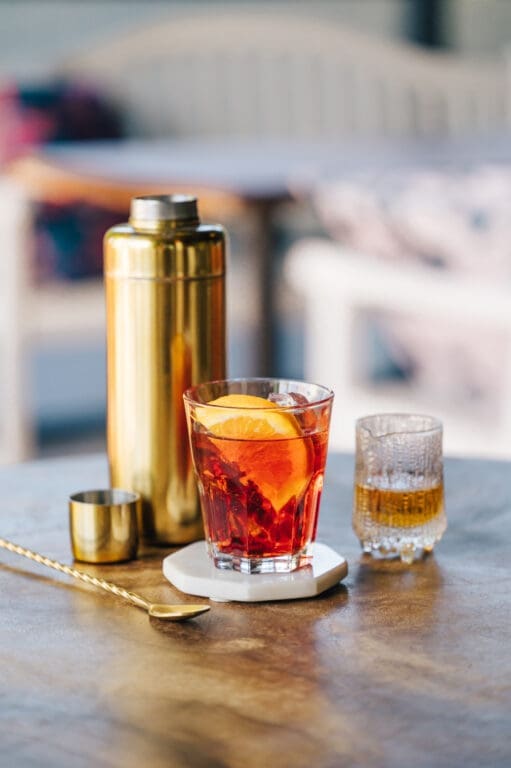 Popularity for the Negroni really exploded in the 21st century, but it was actually created more than a hundred years ago. The story goes that an Italian Count named Camilo Negroni visited his favourite café in Florence and wanted something stronger than his usual cocktail, the Americano – made up of Campari, sweet vermouth and soda water. His friend and bartender, Fosco Scarselli, switched out the soda for gin and added and orange garnish to produce what we now know as a classic Negroni, and what many still argue is the best Negroni recipe.
I truly can't resist the striking ruby hue of a Negroni, and it turns out that few can these days; it's been named in the top two world's best selling classic cocktails list for all eight years Drinks International has run their survey, finally taking top spot in 2022 after seven years as the runner-up. In 2013 the beverage was even given a global calendar slot, with Negroni week taking place between September 12th and 18th; raising millions for charitable organisations.
Ingredients
 A classic Negroni uses only four ingredients:
Gin (30ml)
Campari (30ml)
Vermouth (30ml)
Fresh orange peel or slice
Best Negroni Recipe
It's a cocktail of great simplicity but you want to make sure you get everything right to make the most of it. I've stated the 30ml per alcoholic ingredient measurement for the traditional 'equal parts' ratio, and I'd encourage everyone trying it for the first time to start there before any experimenting.
Begin by mixing the gin, Campari and vermouth into a mixing glass
Add ice and stir until the mixture is chilled
Pour through a strainer into a rocks glass
Add orange peel or orange slice garnish
Personally, I prefer the orange slice instead of peel for an extra dose of fruitiness.
Tips
When you're making something so simple, the quality of the ingredients is key to turning it into a masterpiece. While I'd discourage skimping on the quality of any ingredients, if you're budgeting for it, gin is the most important part to spend your money on; never use a cheap gin. If you already have a favourite then by all means go for that, but a few options that I love in Negroni are Bulldog, O'ndina, and Bombay Sapphire.
 If you're in the mood for a cocktail at your favourite Italian Restaurant Sydney, I'd love to make you a Negroni. We're celebrating our own 'Negroni Month' with four amazing variations until December 4th:
The Negroni 

$15
That's right, it wouldn't be Negroni Month without the classic itself
Sparkling Negroni $15
Better known as the Sbagliato Negroni, this cocktail truly is mistakenly perfect
Hazelnut Negroni $15
I am mixing it up with a nutty wonder – Frangelico, Campari and Cinzano1757 Rosso, topped with a delicious Ferrero Rocher
Naked Negroni – Non-Alcoholic $12
Because I want everyone to enjoy a Negroni this month