Isabella from Italian Street Kitchen talks about 7 pasta dishes that deserve much more appreciation.
Along with pizza, pasta is the food that Italy is best known for, but with so many different types available, they don't all get as widely celebrated as they should. 
With my new menu at Italian Street Kitchen, I'm introducing several incredible pasta dishes that I can't wait for you to try. We also celebrating all things fresh pasta, as my team and i spend the early mornings preparing deliciously fresh pasta for you and your firends and family to indulge in, every single day.  
All of them are underpinned by my belief that the best Italian cooking utilises traditional recipes that have been passed down through generations, that are then enhanced with modern culinary techniques.
1. Ravioli
Ravioli is one of my absolute favourite Italian pasta dishes and has origins dating back to the 14th Century. It involves making a filling that is then enveloped by thin pasta dough and served in a sauce or broth.
My delicious new ravioli dish features pasta with a filling of lamb ragout and ricotta, that is boiled and cooked in a pan with burnt butter, sage and vegetable stock, and tossed with Parmigiano-Reggiano cheese. 
To top it off, the dish is then garnished with a red wine jus, shaved parmesan and fried sage.
2. Conchiglie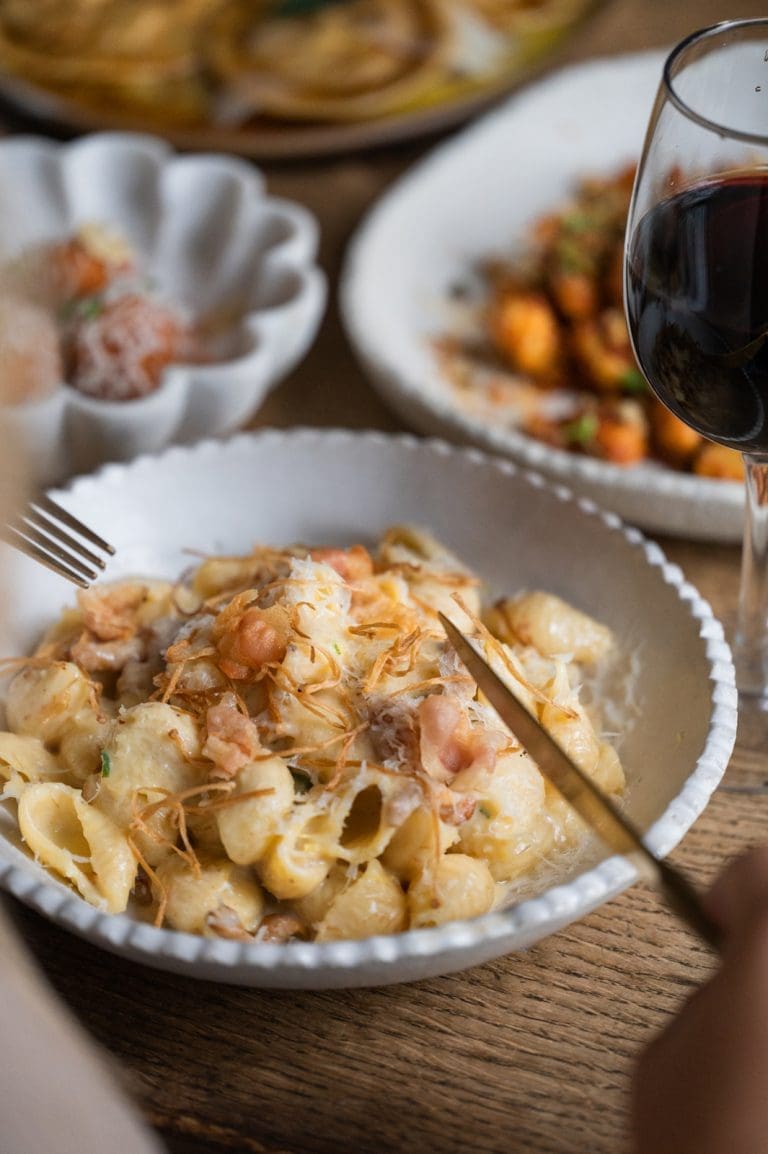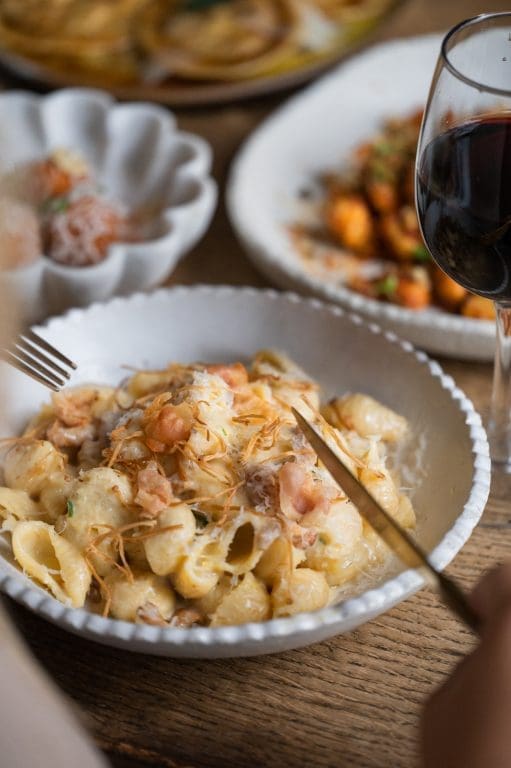 This is a pasta that is often known as 'shells' or 'seashells' due to its distinctive shape. The shape isn't just for aesthetics though, it allows the pasta to hold sauces extremely well. 
While I think it usually goes best with a pasta sauce, it can also be baked in casseroles, included in soups and used for pasta salads.
With my mouth-watering Conchiglie Boscaiola dish at Italian Street Kitchen, the pasta is cooked in a pan with crispy pork cheek guanciale julienne, Pioppini mushroom sauté, white wine, cream sauce and fresh sage, before being tossed with pecorino cheese and gremolata.
3. Spaghetti
I know what you're thinking, spaghetti is perhaps the best known and most widely used type of pasta in the world, so why is it on a list of dishes that don't get appreciated enough? 
I decided to include it because spaghetti is almost synonymous with Bolognese and Napoli sauces to most people, but is still great with more adventurous options.
I hope you'll agree when you try my Spaghetti Ai Gamberi. This one is highlighted by heavenly fried garlic prawns, along with arrabbiata sauce, chilli, roasted cherry tomatoes, capers, lobster stock and peppery rocket.
4. Rotolo
Rotolo is a traditional pasta dish that is scarcely known outside of Italy, and something I thoroughly recommend trying. The word 'rotolo' translates to 'scroll' or 'coil' which describes the appearance of the pasta. The authentic way of making
it involves a very large, fresh pasta sheet that is spread with a filling then rolled up to form a roulade.
I use this technique in my sumptuous Rotolino Pumpkin and Ricotta dish where the pasta is filled with homemade butternut pumpkin purée, amaretti biscuit, ricotta cheese, parmesan cheese, thyme and lemon zest. 
I then bake it in the oven with Parmigiano-Reggiano cheese and served with burnt butter, crispy sage and crushed amaretti biscuit.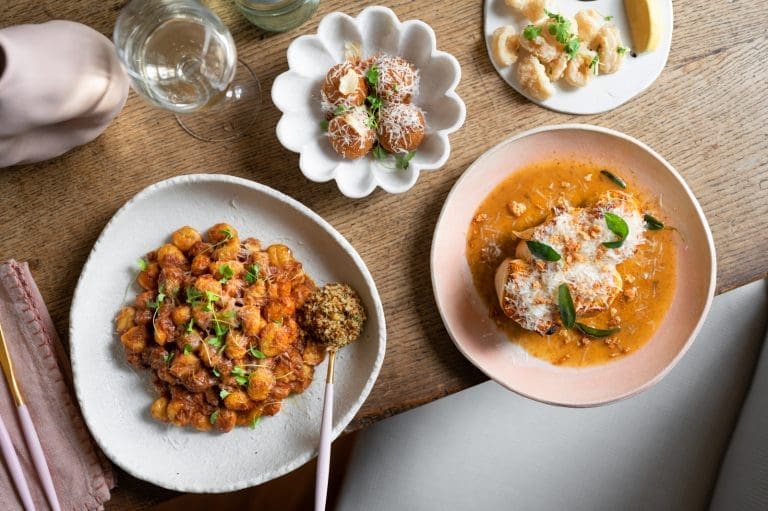 5. Fettuccine
I've always loved fettuccine, which basically means 'little ribbons' in Italian. It's perhaps most well-known for being served with creamier sauces, and usually goes best with sauces that are less chunky, as bigger pieces of meat or vegetables end up separated from the strands of pasta rather than enjoyed with each bite.
It's perfect for my Fettuccine Tartufo which is a divinely creamy dish made with butter and Reggiano cheese, then served with grated winter black truffle that I import from Abuzzo, Italy.
6. Gnocchi
While technically not a type of pasta (it's actually a potato dumpling) I wanted to include Gnocchi dishes as one of my absolute favourite foods and is still served with the sort of cheeses and sauces you'd associate with pasta.
My new Gnocchi Bolognese features homemade beef ragout that is slow cooked for 8 hours. I then prepare it in a pan with red wine and butter, before tossing it with Parmigiano-Reggiano cheese and extra virgin olive oil. 
To complete this magnificent dish, I serve with grated Parmigiano-Reggiano cheese, micro herb parsley and a spoonful of my herby pangrattato.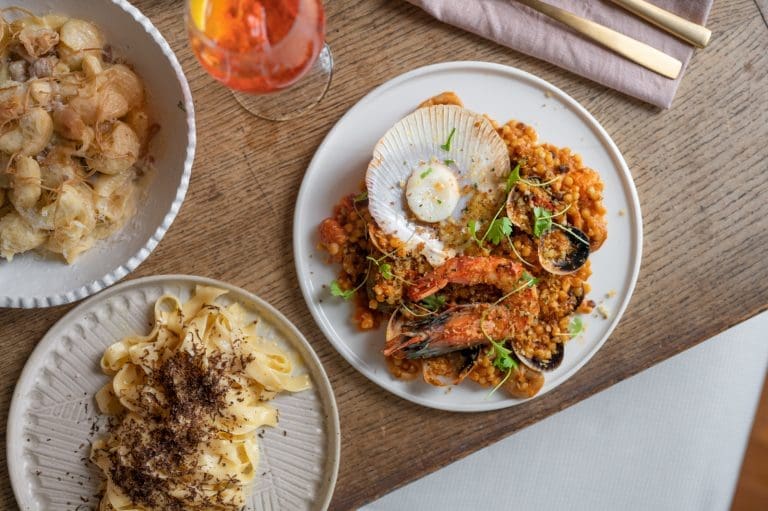 7. Fregola
Fregola is a Sardinian type of pasta that has similarities with Israeli couscous, North African Berkoukes and Middle Eastern Moghrabieh, but importantly, it's made by hand rather than machine. I mainly use it with a tomato-based sauce, but it's also a great option for salads.
In my delightful Fregola Del Marinaio, I cook Fregola with Napoli sauce, chilli, squid calamari, clams and lobster stock, then serve with grilled prawn and scallop, herby pangrattato, gremolata, lemon zest and micro herb parsley