There's practically no such thing as a truly bad pizza – but what is it that makes for a truly great pizza?
This phenomenal meal is popular all over the world, in all sorts of varieties and styles, and there are few smells that can set the mouth watering and stomach rumbling quite so quickly as the wafting aroma of a perfectly cooked cheesy pizza.
As purveyors of some of the best pizza in Sydney, we think we know what it takes to make a great pizza.
The best types of pizza
Everyone has their own personal preferences here, but we believe that wood fired pizza is hands-down the superior slice creating subtly smokey, beautifully crispy, and perfectly cooked finished that you simply can't find anywhere else.
At Italian Street Kitchen, our house-made pizza dough is made using stone ground type 0 flour imported from Italian farmers in the north.  This Italian COD approved flour has the perfect chew and the depth of flavour you'd expect from an authentic Italian pizza.
After slow-raising the dough for 48 hours to maximise its flavour, pizzas are cooked to achieve a melt-in-your-mouth thin base and a delicious pillowy crust.
That said, we can recognise that there are other excellent types of pizza out there.
Take, for example, the classic Chicago deep dish pizza. This ingenious design offers a pizza with crusts that resemble small walls, meaning your pizza topping can build up so thick that it's more of a filling. Deep dish pizzas offer literal piles of added flavour, and is something everyone must try at least once in a lifetime.
And then there's the traditional Neapolitan pizza. This Italian invention is a thing of beauty, and keeps things simple with a simple dough, a tomato sauce, and mozzarella cheese. Sometimes sprinkled with a handful of parsley or other herbs, this pizza also goes by the name of Margherita and is what inspired the modern-day New York pizza.
The best pizza toppings
There are great debates around whether or not pineapple should be found on pizzas or not, but there are also countless smaller disagreements on the best pizza toppings and combinations in the world.
For something classic, we love a burrata pizza – it sticks to the traditional Neapolitan pizza style but is cooked in our woodfired ovens for a tasty twist.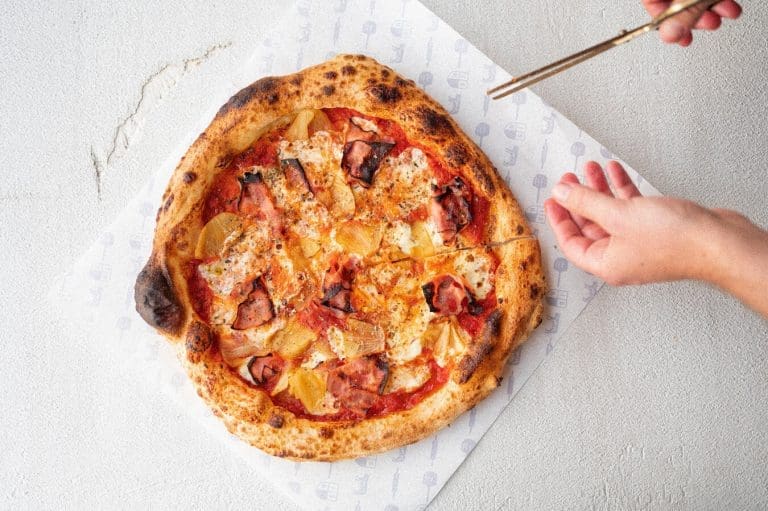 For something distinctly Australian, try our ham and pineapple pizza. With smoked ham, mozzarella and pineapple, this Aussie fave is a hot contender for best pizza in the country.
Or perhaps you'd like something a bit different, or vegetarian? Our Vegan Lover pizza ticks all the boxes and comes with tomato, vegan mozzarella, eggplant, mushroom, zucchini and capsicum.
The Diavolais not just a fairy tale – it's also a magical pizza topping combo at Italian Street Kitchen. We lovingly layer the pizza with mozzarealla, Calabrese spicy salami, Spanish onion, mushroom and basil to bring out the best in each of these flavours. Like a classy version of a basic 'Pepperoni' pizza, this topping is ideal for when you are as hungry as a She-wolf.
Italian Street Kitchen is one of the best pizza restaurants in Sydney. We offer a variety of some of the best woodfired pizzas in existence – including one with a prosciutto topping. There's no need to keep searching for the 'best pizza near me', simply make a booking and try one for yourself!