Isabella from Italian Street Kitchen expertly guides you through choosing the best wine with Italian food. Find out which wine will pair perfectly with your next meal.
Wine and Italian food can truly be a match made in heaven. Your enjoyment of the food can be greatly enhanced by the wine and vice-versa, giving you a magnificent overall dining experience. 
However, not all pairings are created equal, so I wanted to give you a simple guide that will allow you to make the perfect choice next time you have a night out, even if you're currently clueless about what wine goes with Italian food.
To start off with, I'll run through some basic rules of food and wine pairing, and then get into the particular matches that I recommend. Better yet, join me instore for a perfect pairing experience. 
The basics of pairing wine with Italian food
Pair wines and foods that have similar textures

 

Keep a balance between the taste of the wine and food:

 Salty and sour foods make wines taste milder (fruitier/less acidic), while sweet and savory flavours make wines taste stronger (drier/more astringent).

Balance acidity: 

Acidic foods should be paired with acidic wines, while sweet foods work best with wine that is at least as sweet as what you're eating.

 

Match the region: 

There's an old saying for pairing food and wine, 'if it grows together, it goes together' so if you can choose food and wine from the same region, they should complement each other wonderfully.
 Now that we've covered the basics, let's dive into the best wines to choose and which foods they're perfect for.
Chianti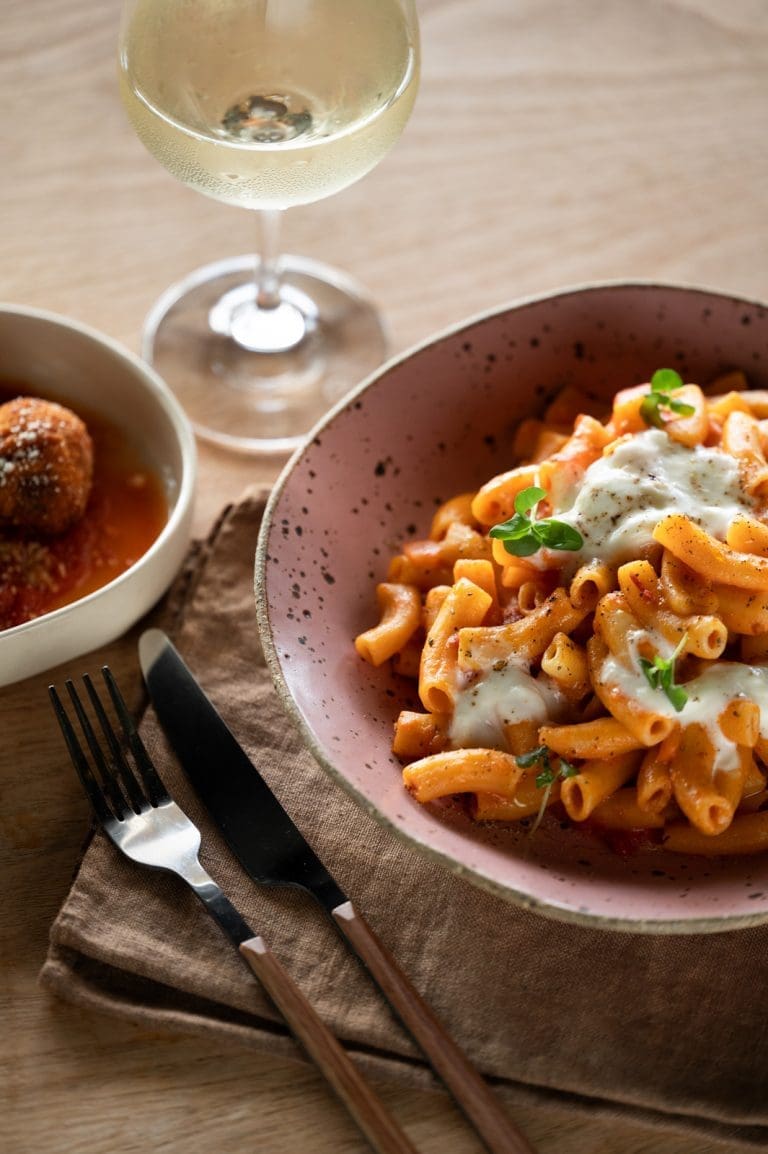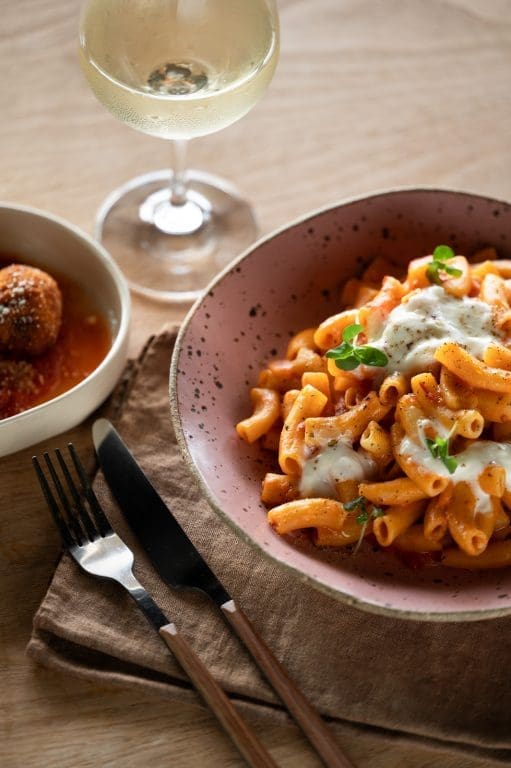 Chianti is certainly one of the most popular wines to pair with Italian dishes. Produced in the Chianti region of central Tuscany, it's believed to have been around since the 14th century. It's a dry red wine featuring strong flavour, earthy undertones and high tannins.
The acidity of Chianti is quite similar to most tomato-based sauces which makes it ideal to have with a variety of pasta dishes such as bolognese, marinara and arrabiata, as well as woodfire pizzas. 
So, if you're in the mood for some classic Italian pizza and pasta, I'd thoroughly recommend giving Chianti a go.
Chardonnay
Who doesn't love Chardonnay? The good news is that it's one of the best wines to have with Italian food too! While it originally came from the village of Chardonnay in Macon, France, the grape is high adaptable to various climates and soils so it's now produced all over the world.
 However, the taste can vary depending on where it was grown. Warmer temperatures produce a grape that generally yields tropical fruit flavours of pineapple, mango and papaya, while places with cooler temperatures deliver a Chardonnay with peach, pear, apple and citrus flavours.
Regardless of where the Chardonnay comes from, I love it when paired with creamy pastas, as well as seafood and roasted vegetable dishes.
Primitivo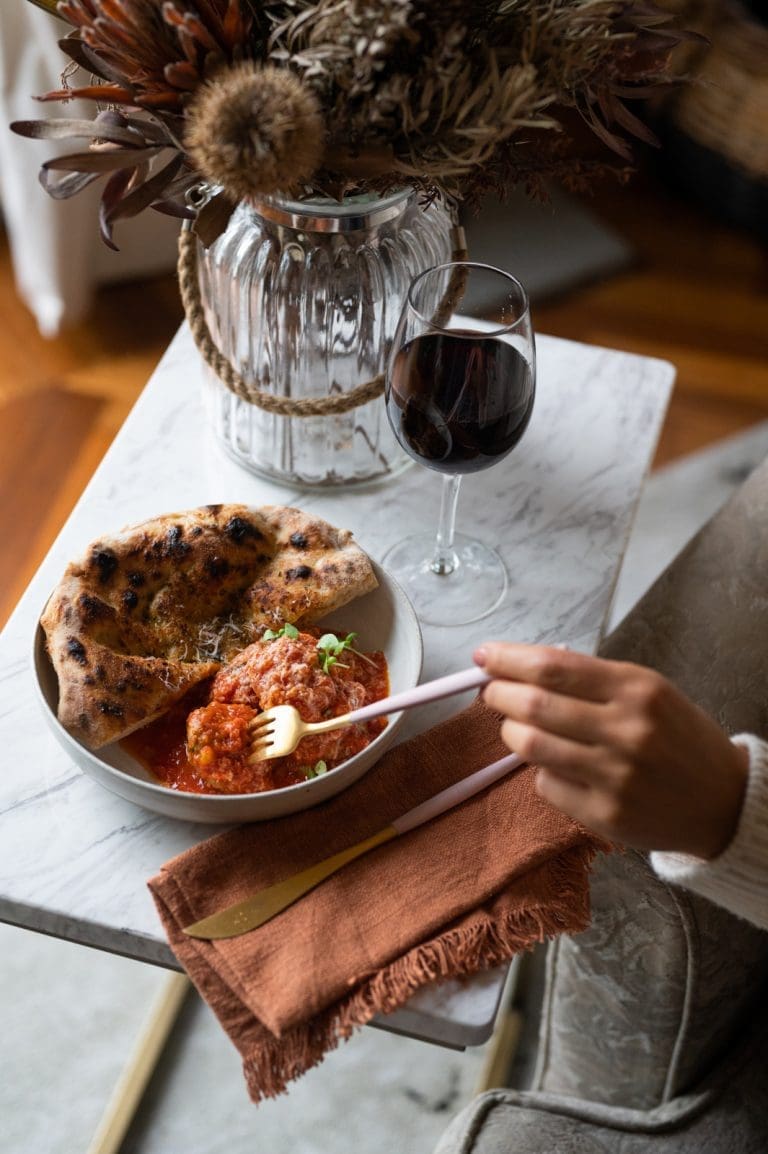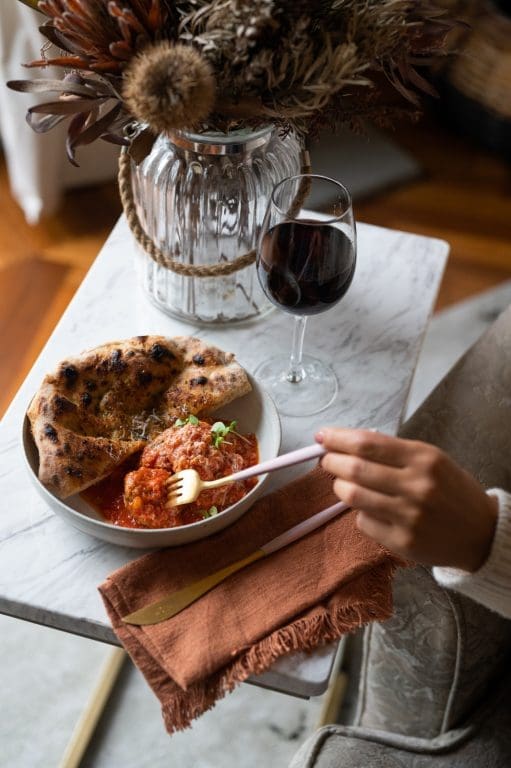 This glorious red wine was introduced to Italy in the 18th century and is traditionally grown in Apulia. 
The Primitivo aroma gives hints of black fruit, blueberries, figs and leather-earthiness, while you may also be able to taste blackberry in this lovely low tannin, medium acidity red.
Like Chianti, it's a fantastic choice for pairing with rich tomato sauces on pizzas and pasta, but if you're at our Italian restaurant Sydney, I'd also recommend trying it with our scrumptious meatballs in sugo appetiser.
Sauvignon Blanc
Made from a green-skinned grape variety that originated in the Bordeaux region of France, this tremendous white wine got its name from the French words 'sauvage' and 'blanc', which means 'wild white'. 
It has a reputation for being crisp, elegant and fresh, while depending on the climate it was produced in, the flavour can vary from aggressively grassy to sweetly tropical.
Sauvignon Blanc is more savoury than most white wines so it pairs well with dishes containing herbs like rosemary, basil, parsley, cilantro and mint. 
If you're having seafood or white meats like chicken and turkey at an Italian restaurant near me, I'd recommend having Sauvignon Blanc as an ideal complement.
Pinot Grigio
While it was created in Italy, it's now made and exported across the globe due to the immense popularity. Pinot Grigio exhibits light, refreshing, zesty flavours with delicate undertones of lemon, apple, melon and flowers.
The light nature of the wine makes it perfect for lighter meals that don't have particularly strong flavours. When I'm in the mood for a light pasta or risotto lunch with salad, Pinot Grigio is definitely my go to accompaniment.

Barolo
Although it may not be as well-known here as some of the red wines from France, I feel that Barolo is even more delicious, and it's generally considered to be the pinnacle of Italian reds. Produced in the Piedmont region of Italy, Barolo originated more than 2500 years ago. It's exclusively made from Nebbiolo, a small, thin skinned red grape that is usually high in acid and tannins. 
It's recognised for having the aromas of tar and roses, as well as its ability to age and typically take on a rust red tinge as it matures. Barolo pairs beautifully with red meats, particularly beef that is on the rare side, while it's also a great complement to poultry and dishes with plenty of mushrooms. After your meal I'd recommend trying it with some quality dark chocolate.