Gnocchi (pronounced NYO-kee) is one of those Italian dishes that seems to have a million and one ways to make it. From the ingredients, to the shape, to how you cook it, there are endless options. And while that might seem intimidating at first, it's actually part of what makes gnocchi so great—you can make it your own! Did you know that we actually make all our pastas, fresh, in house, every single morning? 
What is Gnocchi?
The godchild of pasta and potatoes, gnocchi is an Italian dumpling typically made from boiled potatoes, wheat flour, eggs, and cheese. While that might be the classic combination, there are now all sorts of variations using different ingredients like sweet potato, pumpkin, ricotta cheese, and even zucchini. The possibilities are endless!
Gnocchi gets its characteristic chewy texture from our favourite vegetable, the potato, and can be boiled, baked, or even fried. Beneath these humble ingredients, however, stand generations of tried-and-true Italian home cooking, complete with the culinary technique that creates those perfect, fluffy pillows we all know and love.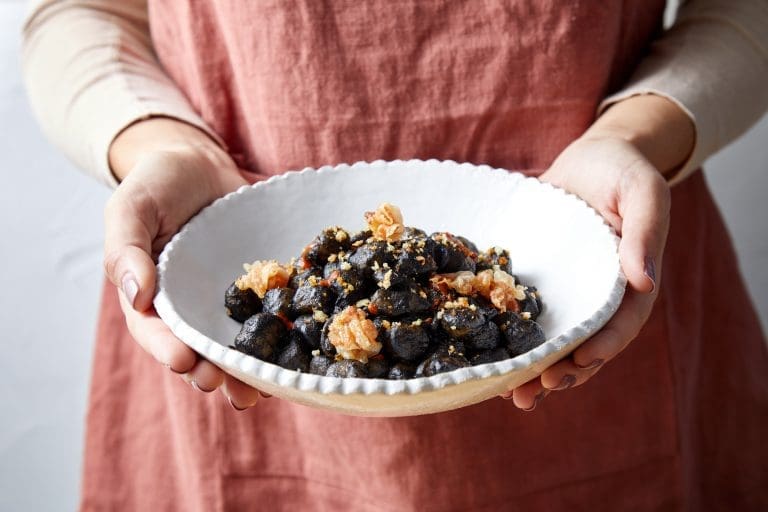 But before we get ahead of ourselves, let's start at the beginning. Like many Italian dishes, gnocchi starts with good quality ingredients. Choose a nice, starchy potato like Russet or Yukon Gold—otherwise your gnocchi will be too watery. Avoid waxy potatoes like red bliss or new potatoes, as they won't work well in this recipe.
Whether you choose to enjoy your gnocchi with a traditional tomato sauce or get creative with your own toppings, I guarantee you'll love this tasty dish. Many years ago, when I was a passionate little bambina in the kitchen, the first question I asked my Nonna was how to make gnocchi – the perfect, scrumptious little Italian dumplings that my family and I enjoyed so much.
And now, I'm excited to share her recipe with you. It's the same recipe i use at Italian Street Kitchen for my Gnocchi Bolognese. 
How to Make Gnocchi
What You'll Need:
– 900g potatoes (about four medium potatoes); keep in mind – the riper the potatoes, the less flour you will need
– 150g all-purpose flour, plus more for dusting
– Two eggs
– Salt, to taste
Tomato Sauce or Other Toppings of Your Choice:
– One onion, finely chopped
– Three cloves garlic, minced
– Half a tin of Italian tomatoes (800g), crushed by hand
– A pinch of sugar
Salt and pepper to taste
Extra virgin olive oil, to serve
Directions:
The first step is to choose the right type of potato. While any potato will technically work, starchy varieties like Russets or Yukon Golds are best. They have less moisture, which means they'll absorb less flour and result in a lighter gnocchi.
Once you've selected your potatoes, it's time to start peeling. You want to go thin and even with your peeler to create a smooth surface for the gnocchi. If there are any lumps or bumps, they'll turn into gluey pockets when cooked.
Next, chop the potatoes into even pieces so that they cook evenly. You can either use a food processor or do this by hand—just make sure the pieces are all about the same size. Once chopped, place them in a large pot and cover with cold water. Bring to a boil and let cook until fork-tender, about 15 minutes.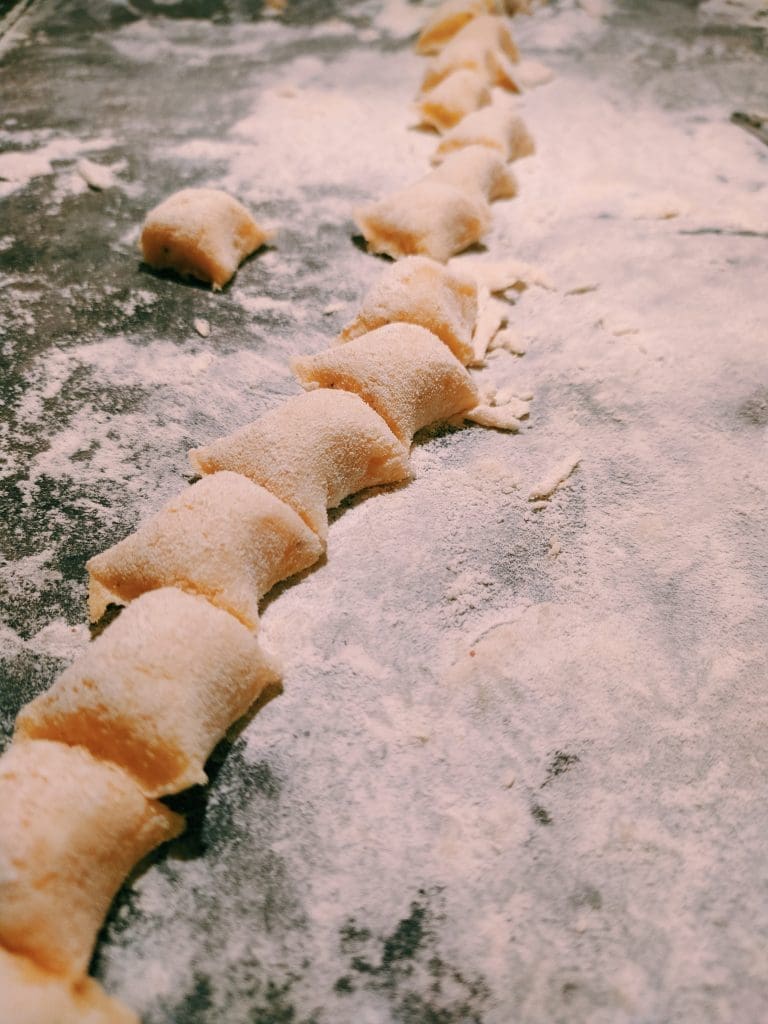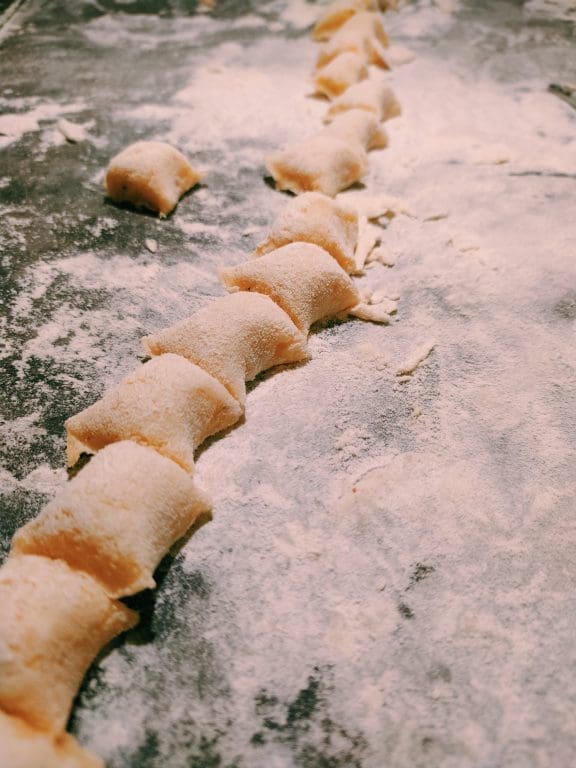 Once the potatoes are cooked, drain them and place them back in the pot. Add the flour and eggs and mix everything together until it forms a dough. You may need to add more or less flour depending on how much liquid is left in the potatoes. If the dough is too sticky, add more flour; if it's too dry, add another egg.
Next, dust a clean surface with flour and transfer the dough onto it. Cut the dough into four pieces and roll each piece into a long rope about two cm in diameter. Then, cut the ropes into small pillows (gnocchi means "pillows" in Italian) about one cm thick.
At this point, you can either cook your gnocchi immediately or freeze them for later. If cooking immediately, bring a large pot of water to a boil and add salt. Cook the gnocchi in batches until they float to the surface (about three minutes).
If you're freezing the gnocchi, place them on a baking sheet lined with parchment paper and freeze for about two hours. Once frozen, transfer them to a freezer-safe bag or container. When ready to cook, there's no need to thaw—just add them straight from the freezer to boiling water.
Don't feel like cooking? Why not head down to your local Italian Street Kitchen for our delicious and fresh pasta, made in house every day. 
Now that your gnocchi are cooked, it's time to choose a sauce. For a traditional Italian meal, pair your gnocchi with a simple tomato sauce – a staple you'll find at any Italian restaurant Sydney. Start by cooking the onions and garlic in olive oil until softened (about five minutes). Add the crushed tomatoes, sugar, salt and pepper, and let simmer for about 20 minutes. Serve over cooked gnocchi and enjoy!
Once you've got the basics down, feel free to experiment! Add different herbs and spices to change up the flavour profile, or go for a more decadent version by adding cheese or butter. The sky's the limit when it comes to making gnocchi, so have fun and enjoy!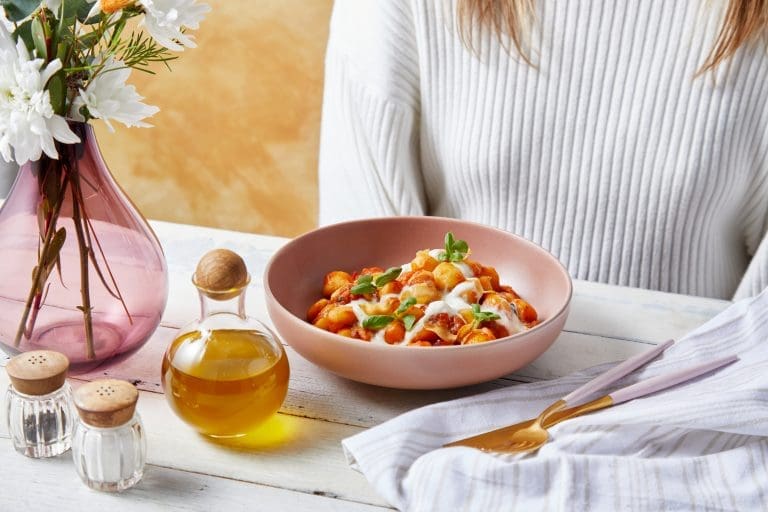 The beauty of Italian home cooking lies in simple, fresh ingredients, and this dish is no different. The key to making perfect gnocchi lies in taking care of the potatoes – make sure they're not overcooked or undercooked, as this will affect the texture of your final dish. With just a little time and effort, you'll be rewarded with delicious, homemade gnocchi.
Author's note: This recipe was shared with me by my Nonna (grandmother) who owned one of the best Italian restaurants in town – and it is definitely one of my all-time favourites. I hope you enjoy it as much as I do! – Isabella xo