I'll admit that I'm probably a little biased, but I really believe that Italian cuisine showcases some of the most romantic meals in the world. Whether you want to make an impression on the first date, or show your partner of decades how much you love them, you can't go wrong with Italian food. Romance is in our blood as Italians, so it's no wonder that we created all these deliciously romantic meals.
1. Risotto
This is a truly luxurious Italian dish that is always creamy, silky and just delightful in texture. Whether you're eating it at a restaurant or preparing it at home, I love risotto for a romantic night. It's a northern Italian rice dish cooked and stirred with broth until it reaches that perfectly creamy consistency. While there are numerous variations that range from vegetarian dishes to those with meat or seafood, identifiable risotto recipes have been traced all the way back to 1809.
Risotto may seem quite simple at first glance; I usually use the common combination of rice with onions, butter, parmesan cheese, white wine and broth as a base. However, making it properly requires constant attention. It's not something you can just whack in the oven or leave on the stove; it needs to be carefully caressed so the rice starch dissolves, binding it together until it reaches the silken form that I assure you is worth every minute of effort. The thoughtfulness of this effort and attention to detail greatly enhances the romanticism of the dish; something that your significant other will appreciate if you make it yourself.
My recommendation for a wine pairing varies a bit depending on which sort of risotto you go for (e.g. meat, seafood, vegetarian) but Gavi is a fantastic all-round choice that can be paired with any type.
2. Antipasti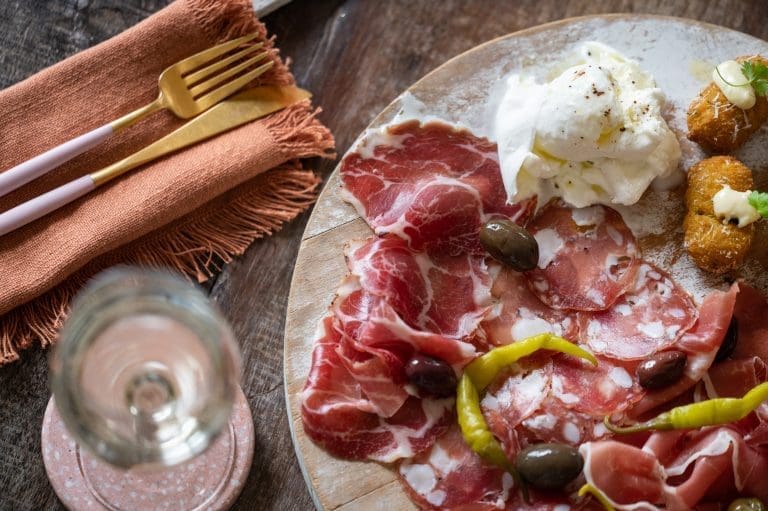 Sometimes you don't want to stuff yourself too much on a romantic night. While not necessarily traditional for Italian main meals (given that it translates to 'before the meal') it can still be a great choice for a lighter dining experience with a few drinks. An antipasti platter generally includes sliced deli meats, cheeses, olives and bread, but other items can be added.
My Signature Antipasti at Italian Street Kitchen features Calamari, croquettes, prosciutto D' Abruzzo, capocollo, salame Norcia, mixed olives, buffalo mozzarella, Sardinian pecorino cheese, carta di musica, sweet chilli jam and peppers. It allows you to sample and comment on a variety of foods which can help keep the conversation going if you're a bit shy on a date. Pinot Grigio is an excellent pairing with antipasti if you're looking to have some wine too. Why not join me for some Italian Drinks at Sunset and grab my Signature Antipasti.
3. Pizza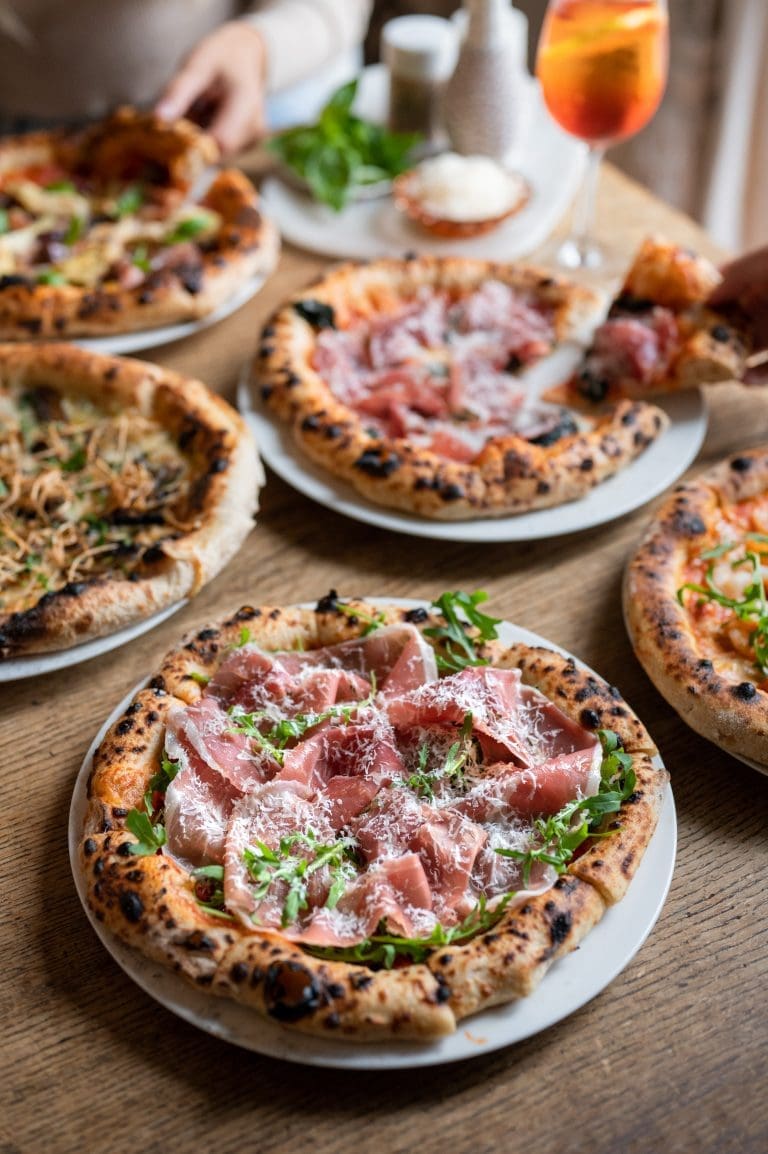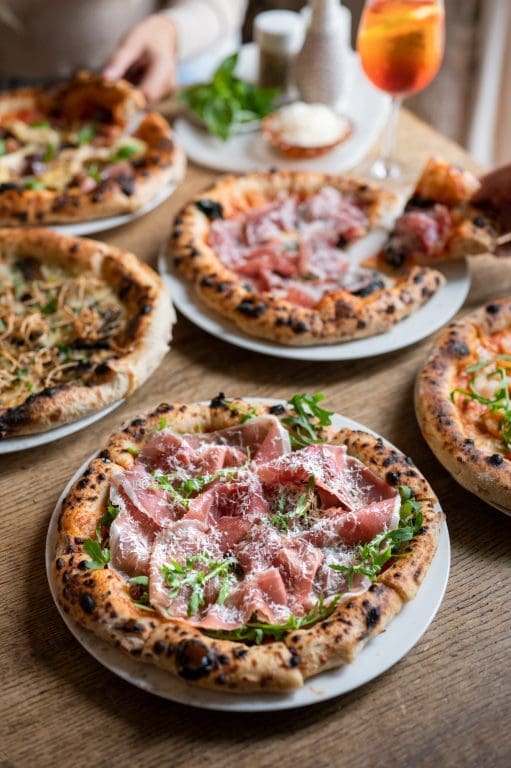 The world's most popular food can also be one of the most romantic. This classic Italian meal comes already sliced into pieces which makes it perfect for sharing. The fact that you can eat it with your hands means it's easier to maintain eye contact with that special someone rather than focusing on the plate below you. It's wonderful to have at my Italian restaurant Sydney, but can also be enjoyed as a take away or delivery.
Whether you want to snuggle up on the sofa or a picnic blanket, gourmet pizza can help make it a very intimate night. If you're after a wine pairing, I love Chianti with any tomato-based pizzas like my Diavolo, Capricciosa or Margherita.
4. Bistecca
 This decadent beef steak from Florence is a personal favourite of mine. Its size makes it ideal for sharing and so do the sumptuous flavours. At Italian Street Kitchen, I serve a 500g Black Diamond striploin on the bone, black truffle butter, crispy sage, red wine jus and truffle with Parmesan chips. While truffles can make anything seem a bit more special, they go incredibly well with Bistecca, which is best served on the rare side so that it's extra juicy.
I'd strongly recommend pairing with Barolo; an Italian red wine with aromas of tar and roses, that is renowned for complementing rare meat.
5. Gnocchi
 There's just something about the lovely soft texture of gnocchi that makes it feel comforting and romantic. It's technically a type of potato dumpling rather than pasta, but is still served with the sort of cheeses and sauces you'd associate with pasta.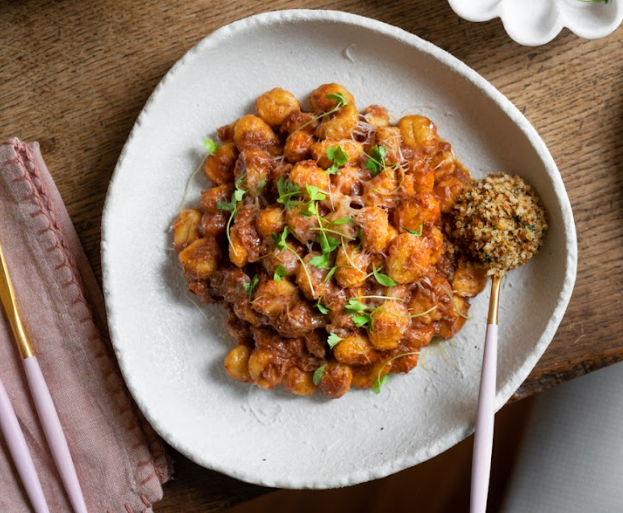 My scrumptious Gnocchi Alla Bolognese is a fantastic choice for dining with the love of your life. It features slow cooked beef bolognese topped with Parmiggiano Reggiano cheese and pangrattato, and I assure you that your date won't be disappointed. The versatile Chianti is my go-to wine pairing for this dish to complete the experience.