There's nothing quite like an authentic Italian antipasto platter – the perfect mix of salty, savoury, and sweet flavours. This deliciously simple dish is the perfect way to showcase all of your favourite Italian flavours and textures. Your favourite Italian restaurant Sydney is sure to have a delicious antipasto platter on their menu, but if you're feeling adventurous, why not try making your own at home?
It's simple to make, too – all you need is some quality ingredients and a little bit of patience.
The term antipasto comes from the Italian word antepastus which means "before the meal". Traditionally served as an appetiser, an antipasto platter is the perfect way to whet your appetite before the main course. Its origins are uncertain, but it is thought to have originated in the thirteenth century when Italian nobles would eat a dish of eggs and meat before their main meal.
Want to indulge in a traditional Antipasti Platter? Book your table at Italian Street Kitchen today!
Today, antipasto platters can be found all over Italy and are often served at family meals or during special occasions like weddings and birthdays. The modern version of this dish consists mainly of cured meats such as prosciutto or salami along with olives, cheeses like mozzarella di bufala campana (buffalo milk cheese) and artichoke hearts on a bed of lettuce greens dressed lightly with olive oil and vinegar.
The best Italian restaurant in town will have a great antipasto platter on their menu, but it's easy to make your own at home. All you need are high-quality ingredients and a little bit of creativity! This dish is one that can be made ahead of time too – just store it in an airtight container for up to three days before serving.
In this article, I'll share with you my top tips on how to make a perfect Italian antipasto platter, from choosing the best meats and cheeses to slicing them just right.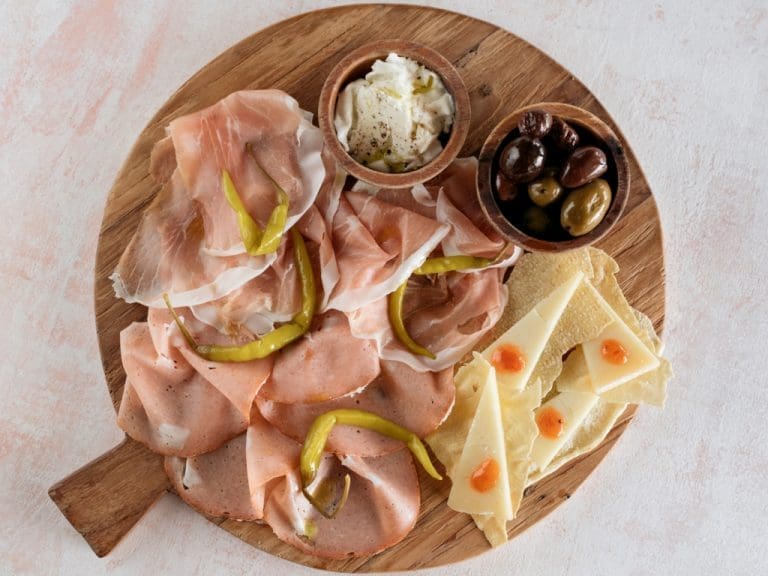 My favourite way to enjoy a delicious antipasti platter is alongside some classic Italian Cocktails. Head on down to Italian Street Kitchen for some Italian Drinks at Sunset with your friends, family or colleagues.  
How to Make a Perfect Italian Antipasto Platter
The key to creating the perfect traditional Italian antipasto platter is choosing high-quality ingredients and balancing both flavour and texture. Here are a few tips on how to do it:
Choose quality meats:

 The star of an Italian antipasto platter is usually cured meat, so be sure to choose a good quality prosciutto or salami. Look for brands that use natural ingredients and no artificial preservatives. This will ensure you get the best flavor and texture possible.

Opt for fresh produce:

 Olives, artichokes, and cheese are all important components of an antipasto platter, so be sure to choose the freshest ingredients possible. Avoid olives that are bruised or discoloured, and opt for artichoke hearts that are firm and not too mushy.

Make sure your prosciutto and salami are thinly sliced:

 This will ensure they'll be easy to eat without overpowering other flavours in the dish. It also helps them stay fresh longer! 

Choose a good balance of colours

: An Italian antipasto platter should have a nice variety of colours to make it look more appealing, so we recommend using red tomatoes for colour along with green olives or artichoke hearts. Add some white cheese like mozzarella di bufala campana for a touch of elegance, and you're good to go.

Don't forget the carbs:

 Of course, your antipasto platter wouldn't be complete without some delicious carbs. We suggest serving some sliced baguette or ciabatta bread on the side so your guests can soak up all that delicious olive oil and vinegar dressing with ease.

Use quality olive oil:

 A good-quality extra virgin olive oil can really elevate your antipasto platter from just another appetiser plate into something special that everyone will enjoy eating before their main course arrives! To ensure you get the best flavour possible, try using a cold-pressed extra virgin olive oil.

Use fresh greens:

 An Italian antipasto platter is usually served on top of lettuce leaves or other greens such as arugula or kale. This helps prevent sogginess from all the condiments and provides some crunch to balance out softer textures like cheese cubes or olives. Try using baby spinach instead of romaine if you want something more flavorful with less bitterness; both work well in this dish!

Choose a nice variety of cheeses

: The best Italian restaurants will offer at least two different types of cheese on their antipasto platter. If you're making yours at home, we suggest using mozzarella di bufala campana (buffalo milk cheese) alongside a sliced Parmesan or ricotta salata for the best flavour and texture combination possible.

Add breadsticks, crackers, bread slices

 (optional): To help round out your antipasto platter and add another layer of texture, it's always nice to include some type of crispy food like breadsticks or crackers. 

Add a dip

 (optional): To make your antipasto platter feel even more like a meal, consider adding in some dips or spreads such as hummus or pesto sauce. These will help round out the flavours and textures in your dish, while adding some extra protein options for those who may not be eating meat. 

Serve at room temperature

: To ensure your antipasto platter is at its best, try serving it at room temperature rather than chilled. This will allow all the flavors to meld together and be enjoyed by your guests in all their glory!
Now that you know how to make a perfect traditional Italian antipasto platter, be prepared for your friends and family to ditch the Google search for the 'best Italian restaurants near me' – they'll all be coming to your house instead!
Enjoy your delicious creation! Buon appetito!