Garlic prawn pasta is a classic Italian dish highlighted by some of our most exquisite ingredients. Garlic is perhaps the most flavourful supporting ingredient you can find, prawns are my absolute favourite seafood, tomatoes are central to nearly all of our cuisine, and pasta is obviously as Italian as you can get. The combination of these core ingredients embodies so much of what I love about Italian food and forms the basis of a magnificent meal you can easily make at home.
Today I'll guide you through a traditional garlic prawn fettuccine dish that is a must-try for any lover of seafood and pasta.
Ingredients and Tips
Before we get to the recipe, I'd like to give you some tips that should ensure you get the most out of this dish. The tips can also be applied to other Italian meals.
Prawns
This is the signature ingredient of the dish so the quality is critical. I favour king prawns which are big and juicy, making them perfect for this meal, but you can certainly use other types if you prefer. The most important thing is that you use fresh prawns rather than frozen ones; for the sake of freshness, I recommend getting them with their heads and shells intact and removing them yourself.
Prefer to join me for a meal? Check out our menu!
Tomatoes
Fresh tomatoes are definitely the way to go for this dish and any authentic Italian pasta with a tomato-based sauce. I use cherry tomatoes for the extra dose of sweetness they deliver. The flavour is more concentrated in cherry tomatoes, so they're a great choice if you feel any tomato recipe needs a boost. As an added bonus, you don't need to peel them like you often do when making pasta sauce with larger tomatoes.
Pasta
You can certainly use your preferred pasta shape for this recipe but fettuccine is my favourite option; just be sure to choose high-quality pasta. Some other kinds of pasta that work well for this sort of dish include spaghetti, penne, and fusilli.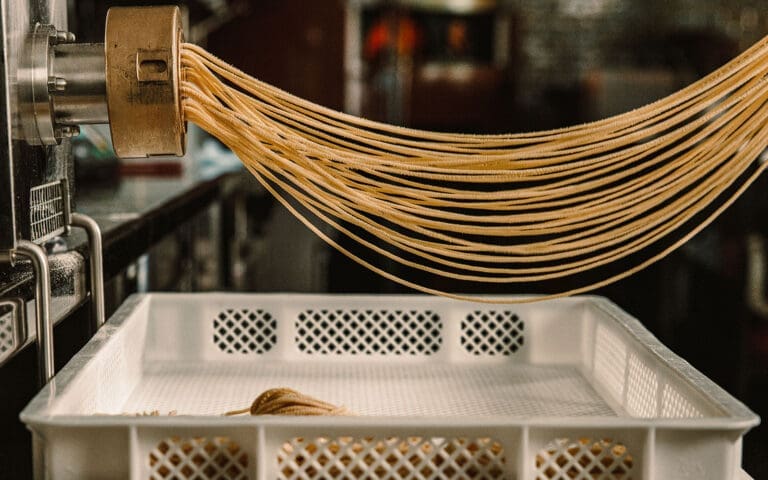 Garlic
I recommend mincing or grating to get the strongest flavour from the garlic, but if you prefer are subtler flavour, you can leave the cloves whole.
Want to try freshly made pasta at the best Italian restaurant?
Extra-virgin Olive Oil (EVOO)
I consider olive oil to be the lifeblood of Italian cooking. 'Extra Virgin' is the highest grade, meaning that the extraction process has not altered the oil in any way and is completely natural. Always use high-quality EVOO.
Lemon
A little lemon zest adds a delightfully refreshing lift to this recipe and can be included in most traditional Italian pasta meals.
Parsley
I use parsley a lot when dishes can use an extra punch of herby flavour, and this one is no exception. Choosing the fresh version is a must as dried parsley simply doesn't have that punch you're looking for.
Experience authentic Italian pasta!
Garlic Prawn Pasta Recipe
This recipe is designed to serve four, but you'll need more self-control than me to limit yourself to one serve.
700g king prawns (cleaned with heads/shells removed)
300g cherry tomatoes, cut into quarters
350g fettuccine
4 garlic cloves, minced
2 tablespoons EVOO
2 tablespoons lemon zest
3 sprigs parsley, finely chopped
Salt
Pepper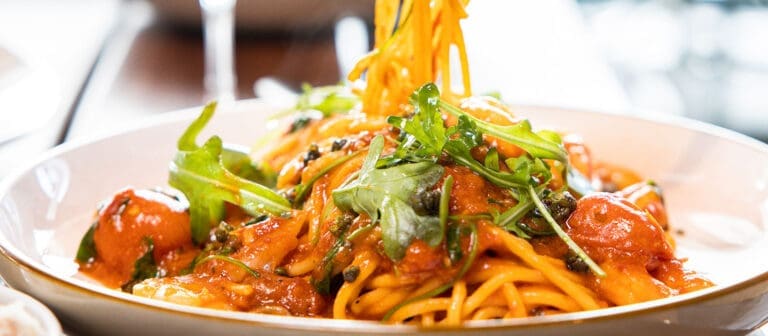 Method
Heat a large frying pan over medium heat, add two tablespoons of oil, then the garlic, tomatoes, and a sprig of chopped parsley. Fry for a few minutes, stirring constantly.
Add king prawns to the pan and fry until they're pink and cooked through (usually a few minutes), then add the lemon zest.
Bring a large pot of lightly salted water to a boil and cook the fettuccine until al dente (10-12 minutes).
Drain the pasta, but keep a cup of pasta water.
Add the pasta to the frying pan and sauté all ingredients for one minute (if the sauce seems too dry, add some of the pasta water).
Stir to ensure all ingredients are mixed in, then turn the heat off.
Sprinkle the remaining chopped parsley and season with salt and pepper to taste.
Serve straight away and enjoy your delicious garlic prawn pasta!
If this has gotten you in the mood for seafood pasta but you don't feel like cooking yourself, I'd love to make you my sumptuous Garlic Prawn Spaghetti at Italian Street Kitchen. This dish is highlighted by gorgeous fried garlic prawns, along with arrabbiata sauce, chilli, roasted cherry tomatoes, capers, lobster stock, and peppery rocket.