Gnocchi has always been one of my favourite Italian foods. Although it's usually served with the sort of cheeses and sauces you'd associate with pasta, it's actually not a type of pasta, it's a scrumptious potato dumpling.
Having been lucky enough to travel all over Italy, experiencing numerous different varieties of gnocchi, I wanted to bring some of those amazing flavours to you.
I believe that to create the finest Italian food you need to utilise traditional recipes that have been passed down through generations, but enhance them with modern culinary techniques. While this is critical with all of my cooking, it comes together in a particularly wonderful way with our new gnocchi menu.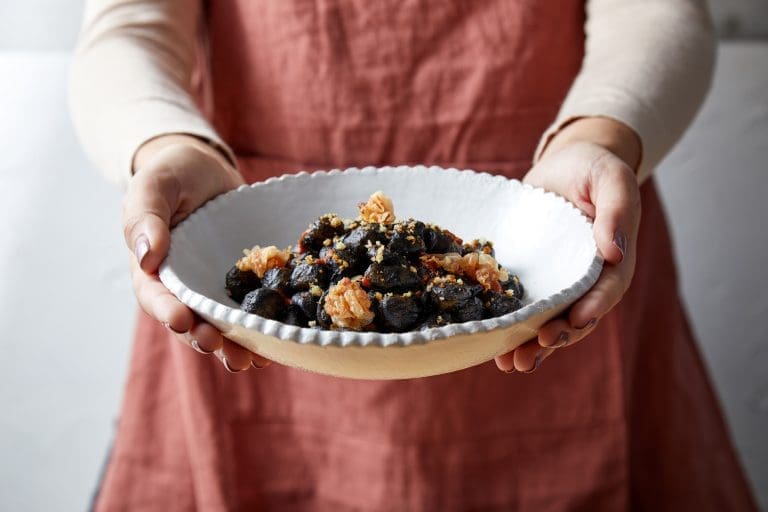 I'm very excited to introduce three unique gnocchi dishes from three different regions of Italy, to showcase this delicious food: Pomodorini from Puglia, Amatriciana from Lazio and Al Nero from Calabria. You can try all three dishes with our gnocchi sample plate, or stick to what you know best with a full serve of any of the gnocchi options for just $29.
Want the full Italian Experience? Why not add on one of the suggested wine pairings, carefully selected to perfectly complement each of the gnocchi meals. Better yet, trial all three with a wine sampling flight for just $14.
I've had such fantastic experiences in these parts of Italy and want to honour each of them by showing you how special they are.
Pomodorini (Puglia):
Roasted cherry tomatoes, parmigiano-reggiano, fior di latte & stracciatella cheese, garlic and basil.
I suggest Domaine AIX Rose as the wine pairing.
Do yourself a favour and google 'Puglia beaches'. Your next step will probably be to look for flights to Italy as it really is paradise there. The stunning rock formations, the exquisite colour of the water and the magnificent old buildings that overlook the ocean characterise just part of this region's amazing scenery.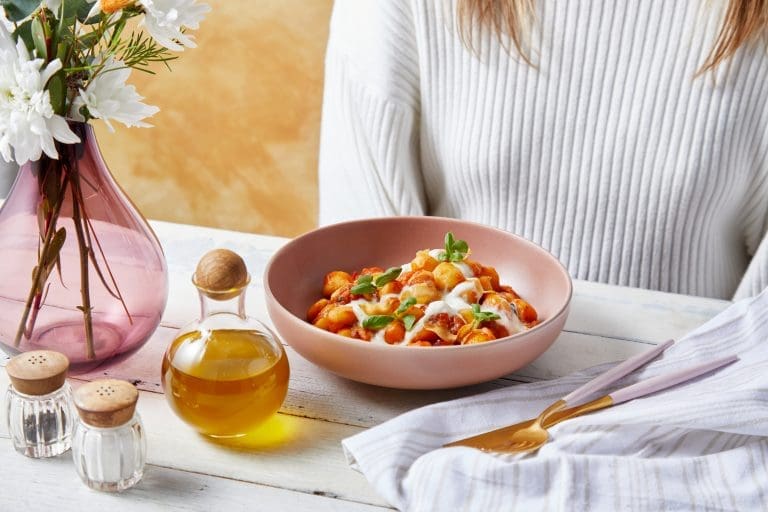 However, this isn't the only thing Puglia is famous for, it's also known for its wonderful food.
Puglia produces around 40% of Italy's olive oil, which is about 300,000 tonnes every single year, so you can understand it being a significant part of their cuisine.
Other locally grown ingredients include tomatoes (like the sweet pomodorini cherry tomatoes I use for this gnocchi), asparagus, artichokes, mushrooms and aubergines (eggplants).
They're also very proud of their cheeses, inspiring us to use parmigiano-reggiano, fior di latte and stracciatella cheese in our delightful Pugliese gnocchi dish.
Amatriciana (Lazio):
Guanciale, Napoli sauce, chilli, Sardinian pecorino cheese and basil.
I suggest Antinori Santa Cristina IGT Sangiovese/Merlot as the wine pairing.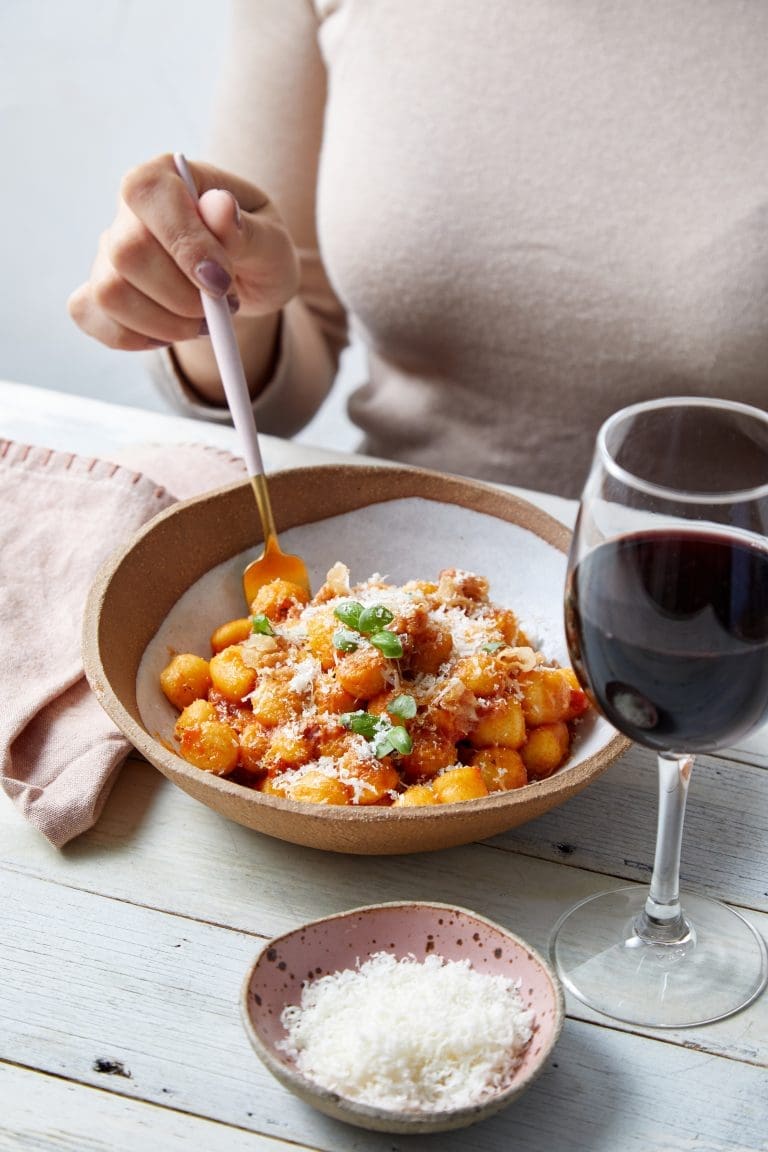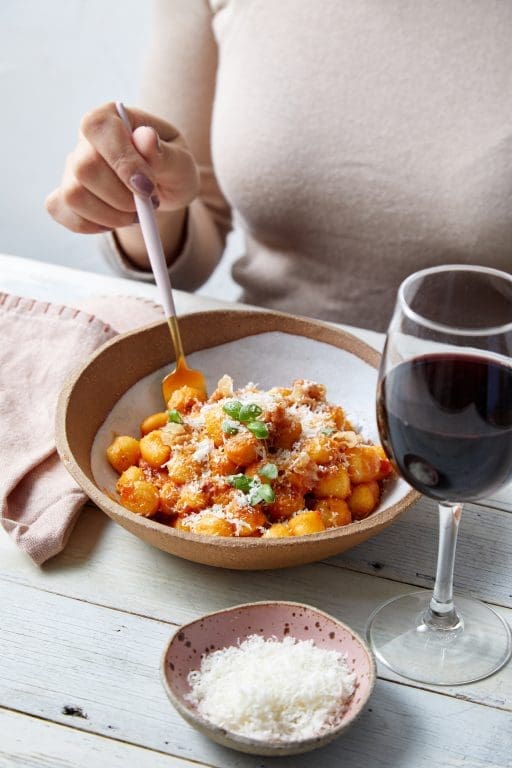 Despite being the second most populated region of Italy, being critical to the country's economy and boasting a beautiful countryside, Lazio isn't particularly well-known to the wider world.
This is largely because the name of this region is nowhere near as recognisable as its most famous city, the Italian capital, Rome, where some of the most significant cultural and historical events in western civilisation have taken place.
However, the broader region is quite spectacular and has a fantastic reputation for its food and wine. There are little towns along the coast and further inland that feature hidden trattorias serving simple but outstanding dishes that exemplify all the great things about Italian cooking.
The inspiration for this gnocchi meal is Amatriciana, a dish that originally came from the Lazio town of Amatrice.
It includes Guanciale, a cured meat prepared from pork jowl or cheeks, Sardinian pecorino cheese, a firm cheese made from the milk of sheep specifically from the local Sardinian breed, as well as chilli, basil and Napoli sauce. This all combines perfectly with our delicious gnocchi.
Al Nero (Calabria):
Baby calamari, squid ink, homemade spicy pork nduja, garlic, mint & lemon pangrattato.
I suggest Antinori Santa Cristina IGT Bianco as the wine pairing.
The Calabria region is located on Italy's southwest tip, between the Ionian Sea on the east and Tyrrhenian Sea to the west.
It contains a variety of medieval villages within five major cities, and like Puglia, features extraordinary beaches surrounded by jaw dropping cliffs and gorgeous rock formations (yes, Italy is amazing). Further inland there's also an array of thick forests with dazzling streams, canyons and waterfalls.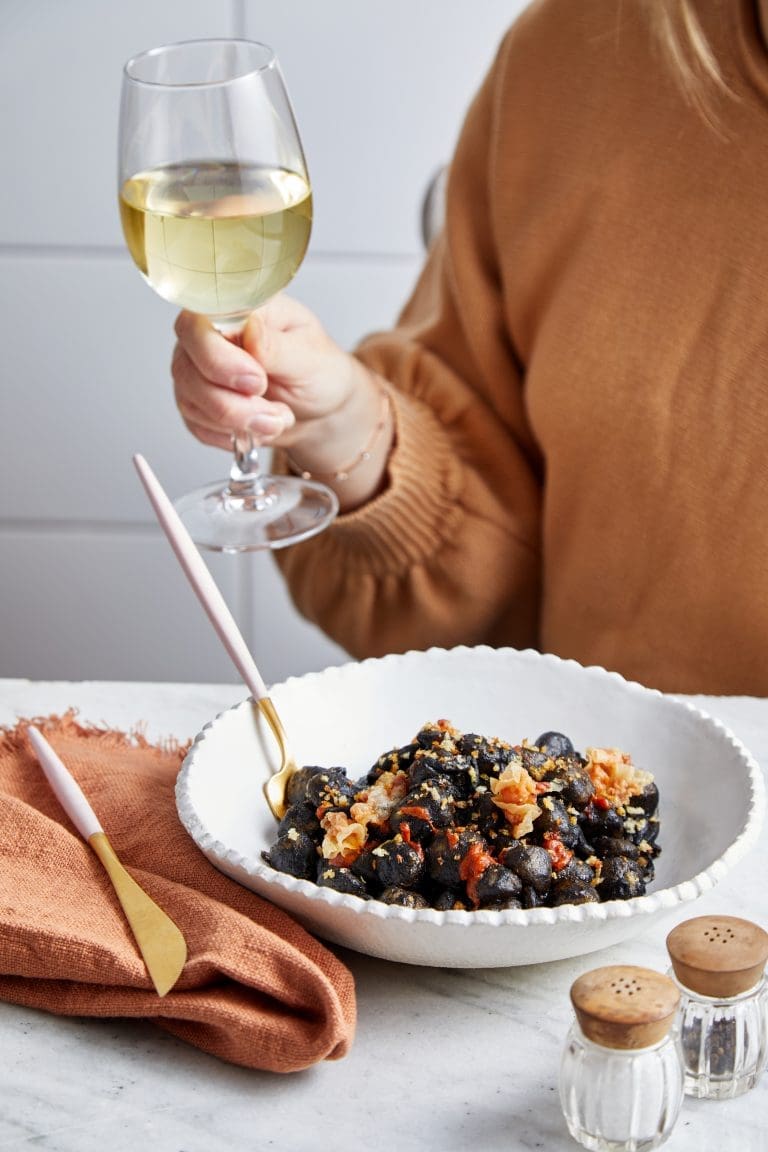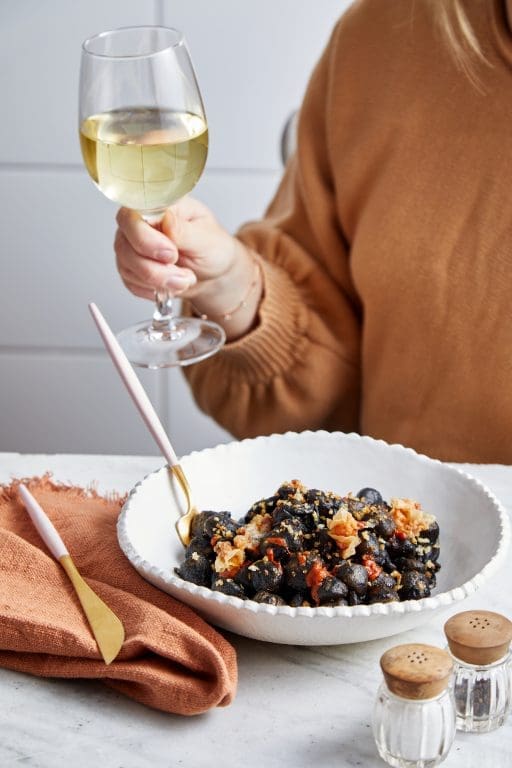 While it might not be to everyone's taste,
Calabria is quite famous for its black licorice (or liquorice). Many claim that it grows the best licorice in the world and throughout much of the countryside you'll notice the plant's prominent yellow flowers. Licorice is so significant in Calabria that it has its own museum called, Giorgio Amarelli Museo della Liquirizia.
Calabria comprises around 500 miles of elegant coastline so it's no surprise that their cuisine is filled with plenty of seafood.
Some of their most popular options include swordfish, tuna, red mullet, anchovies and sardines. Additionally, they're known for cooking squid, octopus, lobster and a variety of prawns.
The seafood inspiration for our mouth-watering Calibrian gnocchi dish is baby calamari and squid ink. I also add homemade spicy pork nduja (a spreadable Calibrian sausage), garlic, mint and lemon pangrattato (breadcrumbs).