Bolognese vs. Spaghetti Sauce: What's the Difference?
We'll waste no time and get straight to the sauce – what's the difference between spaghetti sauce and bolognese? Aren't they one and the same, you might ask?
Well, it's written on the menu: spaghetti bolognese, right?
To the innocent but inexperienced food connoisseur, the two may seem convincingly synonymous, give or take a few herbs. Minus the basil, plus the oregano.
It'd be a whole different story, however, if you decided to go and ask a cream of the crop food critic partaking at a five Michelin star restaurant. Or even the chef at your favourite local Italian restaurant. They'll quickly set you straight and politely instruct you on the bolognese vs spaghetti sauce debate.
The two sauces are worlds apart, as any Italian nonna will tell you.
Want to try them both for yourself? Order takeaway now and receive 30% off all pastas with code 30Bolognese
So, how are they all that different, anyway? What's the hypothesauce?
To boil it down (or reduce, as the chef would say) to the very basics, bolognese is a meat sauce.
In Italy, the sauce is known as Ragù alla Bolognese (or simply "Ragù"), and is one of the many methods in Italy used to prepare meat sauces.
Ragù is a general term in Italian, used to refer to any meat sauce simmered or cooked over low heat for many hours. Each ragù is made from many different types of ingredients, which vary according to the region the ragu is from – hence "alla Bolognese", meaning, of Bologna. 
Typically, the sauce is made with ground beef, pancetta (an Italian bacon), onions, carrots, celery and tomatoes. The vegetables are all first sautéed in the fat rendered from the pancetta before the beef is added. Wine (red or white) is also a key ingredient, as well as milk or cream. It's cooked slowly over several hours so all the meats get a chance to release their juices into the sauce, creating that rich and savoury umami taste you want in your food!
In Italy, at least, the Bolognese version of Ragù is made with tomatoes and served over tagliatelle, tortellini, or gnocchi – unless you're eating in a restaurant that is tourist-friendly. These thicker types of pasta are much better equipped to handle the chunky sauce. This is not to be confused with spaghetti sauce, which is often also used in lasagna.
Spaghetti sauce, on the other hand, is a tomato-based sauce that's much thinner and usually served with spaghetti (surprise!). It contains garlic, onions, green peppers, herbs like basil and parsley, and of course – tomatoes. Okay, you might find carrots in there too, if we're talking about that iconic spaghetti sauce with the top-secret ingredients from the best Italian restaurant in town, you know the one – just down the road, we mentioned earlier.
The key difference here is that bolognese sauce contains meat of some sort – beef, veal or pork are the most popular options.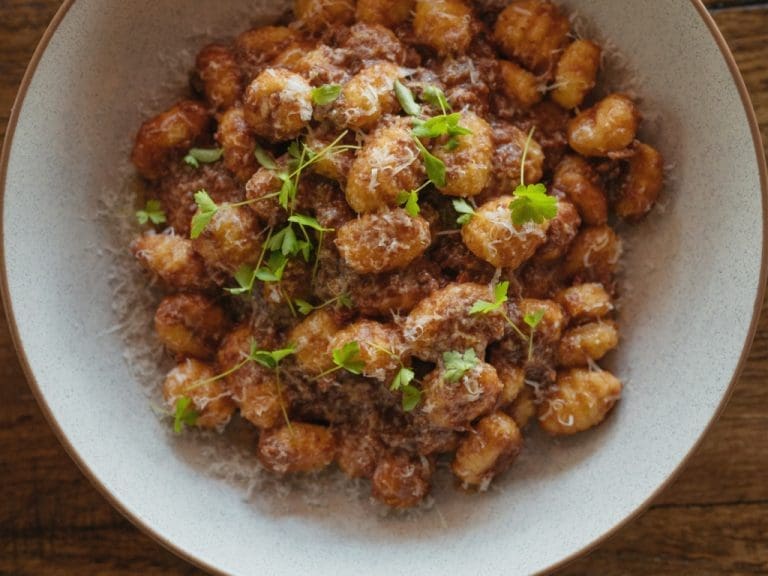 It just so happens that beef is the most popular choice in Italy (and your favourite Italian restaurant Sydney). Spaghetti sauce usually has no more than two ingredients but if you're looking for a recipe that'll blow your mind (and taste buds), spice it up and go with four: tomato paste, onions, carrots and celery.
You'll find bolognese much more complex in flavor than spaghetti sauce because it contains several ingredients that have been simmered together long enough to meld their flavors. Spaghetti sauce often uses canned tomatoes as opposed to fresh ones, so the taste isn't quite as bright and fresh as bolognese, which makes use of chopped up fresh vegetables rather than sauces from a jar or tin.
It's also important to note that bolognese sauce is generally served at a higher heat than spaghetti sauce – so if you're looking for something a little more fiery, bolognese might be the way to go.
Besides those distinctions, there are even more variations of each type of sauce that make them both unique unto themselves. 
Whether you decide to whip up a batch of bolognese or spaghetti sauce for dinner tonight, know with certainty that you'll be getting two very different dishes, complete with their own special ingredients and taste. And now you can hold your own in any conversation about Italian food with the experts!
Of course, spaghetti sauce and bolognese have their merits, but here at the Italian Street Kitchen, we definitely prefer the rich flavours of bolognese in our house (without a doubt, Mamma and Pappa would whole-heartedly agree). 
Feel free to experiment and find your favourite!
So, the next time you're out with friends or family and you type into Google 'Italian restaurants near me', don't even think about asking the waiter, "What's the difference between bolognese and spaghetti sauce?" Take it from us, just order bolognese.
What's your tried-and-true favourite? We'd love to know.