Isabella from Italian Street Kitchen details 6 of her favourite Italian cocktail recipes to try at home this summer.
I certainly love cocktails all year round, but there's something extra special about having them in summer. The sun is out, you have great company, then when you add a refreshing cocktail, it really completes the experience for me. It's a pleasure to bring the traditional cocktails of my homeland to my Italian restaurant Sydney, but if you're like me, you want to enjoy a relaxing drink at home too. That's why I wanted to take you through six of the best cocktail recipes for summer.
1. Limoncello Spritz
Limoncello is a traditional Italian liqueur I truly adore, and it's made from the zest of lemons. It's typically crafted in Southern Italy, particularly in the Campania region where it originates from. The name Limoncello itself means 'little lemon' and it's usually served as an after-dinner drink, which we call a 'digestivo' in Italy.
The Limoncello Spritz is a variation of the classic Aperol Spritz, and is the perfect way to enjoy the tangy, citrusy taste of Limoncello in a cocktail. To get the most out of this and any delicious cocktail recipes, make sure you only use high-quality ingredients.
Ingredients 
50ml Limoncello
60ml Prosecco
30ml soda water
Ice
Lemon twist
Method 
Fill a wine glass with ice
Pour over Limoncello
Top up with Prosecco and soda water
Stir
Add lemon twist to glass
Book a table and discover the Italian Street Kitchen difference!

2. Bellini
This is an Italian masterpiece that will tantalize your tastebuds with its burst of fresh flavour. Originating in Venice during the 1940s, the Bellini features a harmonious blend of effervescent Prosecco and the sweetness of peach puree. It's the epitome of refreshment, making it the ultimate summertime drink, especially during peach season. Whether it's for a leisurely lunch or a special occasion, the Bellini is sure to delight. I think its light and fruity taste makes it an ideal accompaniment to any meal and an amazing way to unwind and enjoy the sun.
Ingredients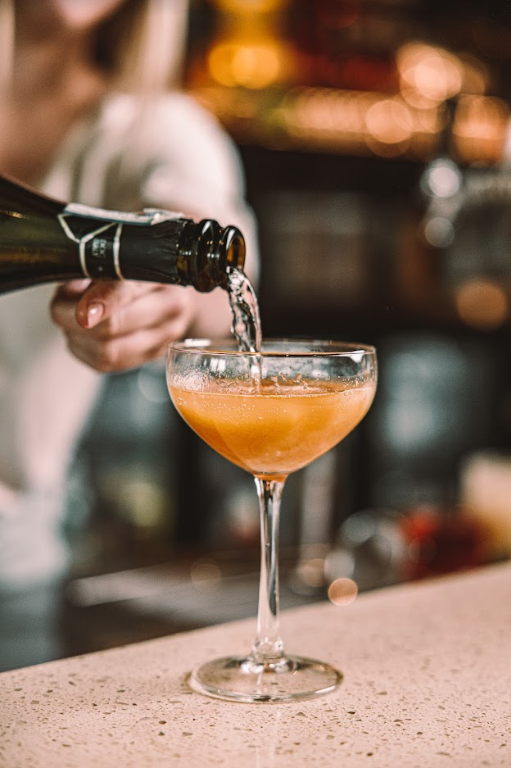 150ml Prosecco
60ml peach puree
Peach slices
Method
Blend fresh peaches in a blender or food processor until smooth to make the puree
In a chilled champagne flute, pour in the peach puree
Slowly pour in the Prosecco, being careful not to disturb the puree too much
Garnish with a peach slice or two (optional)
3. Mojito-Cello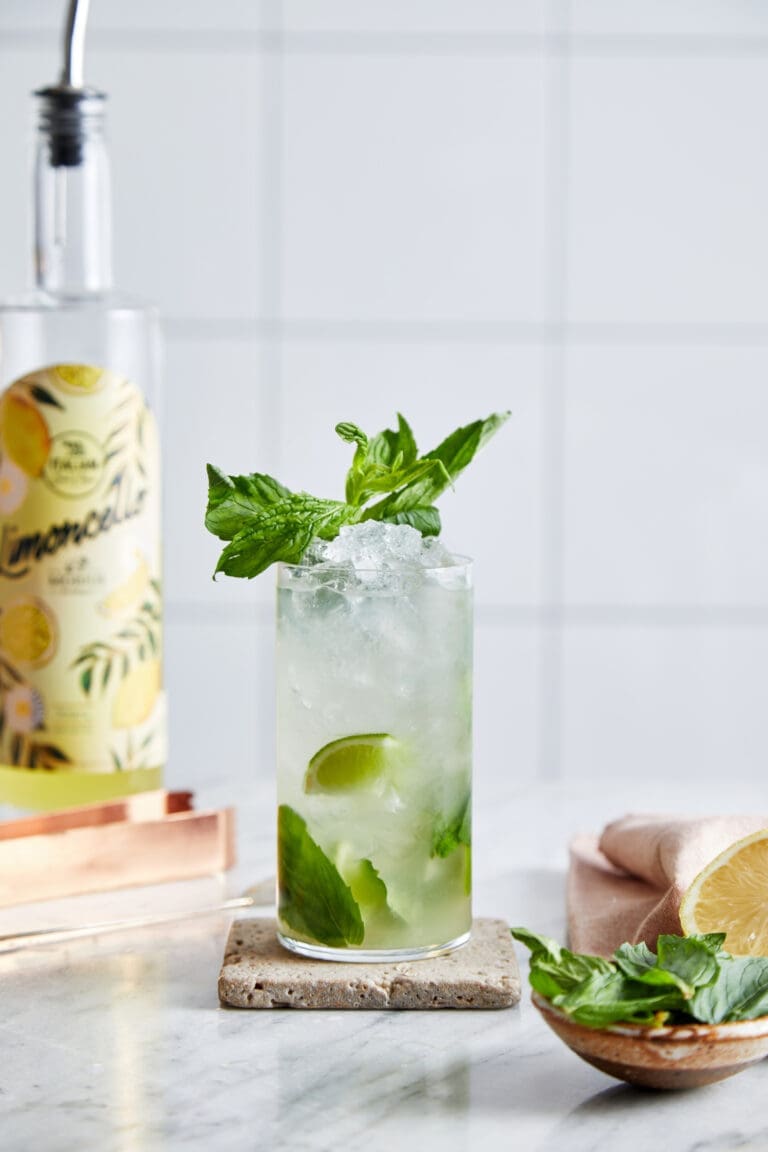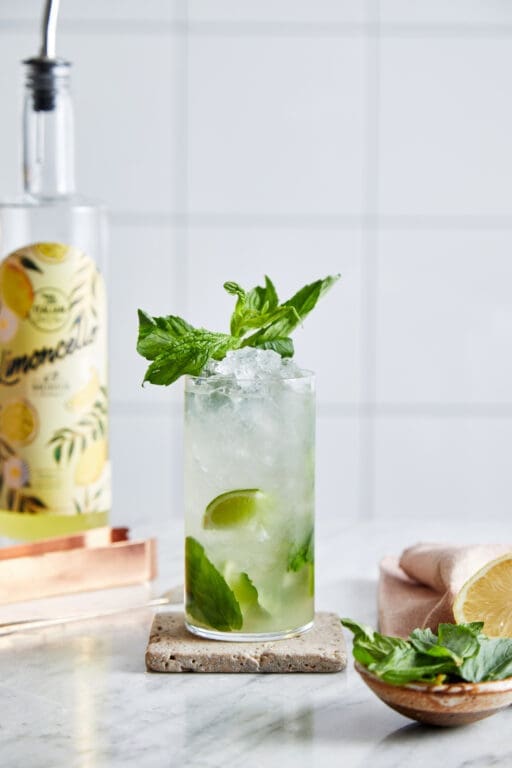 The Mojito-Cello is an Italian twist on the traditional Cuban cocktail, the mojito. It retains the classic ingredients of rum, lime, mint, and soda, but instead of sugar, I add limoncello; the delightful Italian liqueur also used in the Limoncello Spirtz. I think that this extra citrus boost makes it even more enjoyable than the original.
Ingredients
60ml white rum
30ml Limoncello
15ml lime juice
40ml soda water
10 mint leaves
Lime wedges
Mint sprigs
Method
In a shaker, muddle the mint leaves with lime juice and Limoncello
Add the rum to the shaker and fill with ice
Shake vigorously for about 10 seconds
Strain the mixture into a glass filled with ice
Top up the glass with soda water
Garnish with a lime wedge and a mint sprig
Want me to make you a cocktail instead? Check out my drinks menu here
4. Americano
This is a timeless Italian cocktail that exudes class and sophistication. Despite its name, this classic drink was first created in a bar called Caffe Campari in Milan, the birthplace of Campari itself. It was named the 'Americano' due to its immense popularity among American tourists at the turn of the 20th century, and it continues to be a favourite among cocktail connoisseurs to this day.
Ingredients
30ml Campari
30ml Vermouth Rosso
30ml soda water
Orange peel
Method
In a rocks glass filled with ice, pour in the Campari and Vermouth Rosso
Top up the glass with soda water
Garnish with an orange peel
5. Negroni
Popularity for the Negroni really exploded in the 21st century, but it was actually created more than a hundred years ago. The story goes that an Italian Count named Camilo Negroni visited his favourite café in Florence and wanted something stronger than his usual cocktail, the Americano – made up of Campari, sweet vermouth and soda water. His friend and bartender, Fosco Scarselli, switched out the soda for gin and added and orange garnish to produce what we now know as the Negroni. Whenever I catch a glimpse of that gorgeous ruby hue, I absolutely must have one.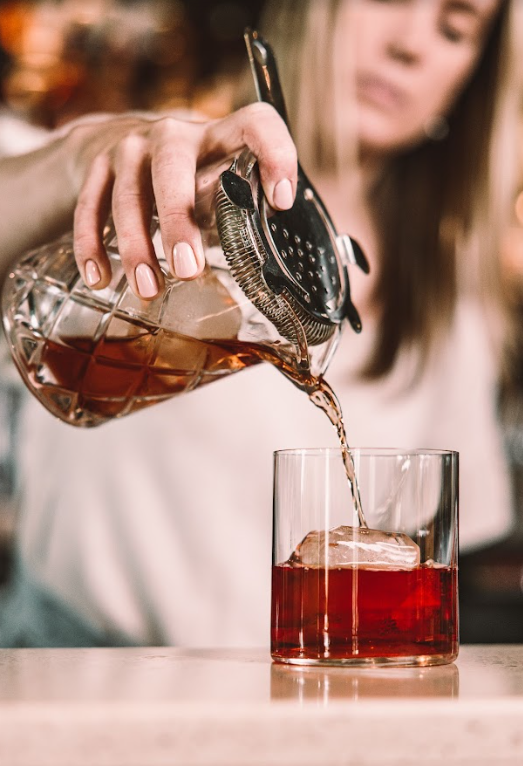 Ingredients
30ml Gin
30ml Campari
30ml Vermouth
Fresh orange peel or slice
Method
Begin by mixing the gin, Campari and vermouth into a mixing glass
Add ice and stir until the mixture is chilled
Pour through a strainer into a rocks glass
Add orange peel or orange slice garnish
Discover the true taste of Italy!
6. Amaretto Sour
The Amaretto Sour is a magnificent cocktail that highlights the unique and versatile flavour of amaretto liqueur. Initially introduced in 1974 as a simple mix of two parts amaretto to one part lemon juice, over time, the recipe has been refined and modernised, resulting in a more delicious and balanced taste. My recipe includes amaretto, lemon juice, sugar, and egg white, which creates a wonderful blend of sweet and sour flavours that is truly invigorating, especially during the summer months.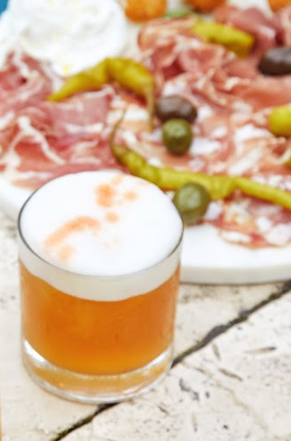 Ingredients
50ml amaretto
25ml fresh lemon juice
25ml simple syrup
1 egg white
Ice
Method
Squeeze lemon juice
In a shaker, add the amaretto, lemon juice, simple syrup, and egg white
Add ice to the shaker and shake vigorously for about 15 seconds until the egg white is frothy
Strain the mixture into a glass filled with ice
If you'd prefer that I make a cocktail for you at the best Italian restaurant, we'd love to see you soon!