Spring is a glorious time of year and there's just something about it that makes me crave a trip home to Italy. While I won't be returning for the rest of the year, I'm already planning to visit during the Italian Spring months of March through May; which I think is the best time of year for an Italian holiday if you're considering a trip yourself. Until then, the best way to transport yourself to Italy is through food, so today I'd like to share some of my favourite Spring pasta dishes with you and some of my favourite dishes at Italian Street Kitchen. 
1. Rigatoni
This is a tube-shaped pasta that I absolutely love during Spring time. Rigatoni comes from the Italian word 'rigate' which means ridged, grooved or lined; a reference to those ridges you'll notice on the pasta tubes. Many Italians like myself believe that the ridges produce a better surface for sauces and grated cheese to adhere to when compared to the smoother varieties.
Rigatoni was first created during the 19th century when machines started to appear in Italian cuisine, to assist with the preparation of numerous different pastas. While originally most popular in Rome, rigatoni became quite famous in Sicily where they would prepare a dish called Tagnu. The interesting thing about Tagnu, is that the pasta was cooked in a special terracotta bowl, but the bowl itself was intentionally broken before serving. This was in order to preserve the round shape of the dish rather than ruin it while attempting removal from the bowl.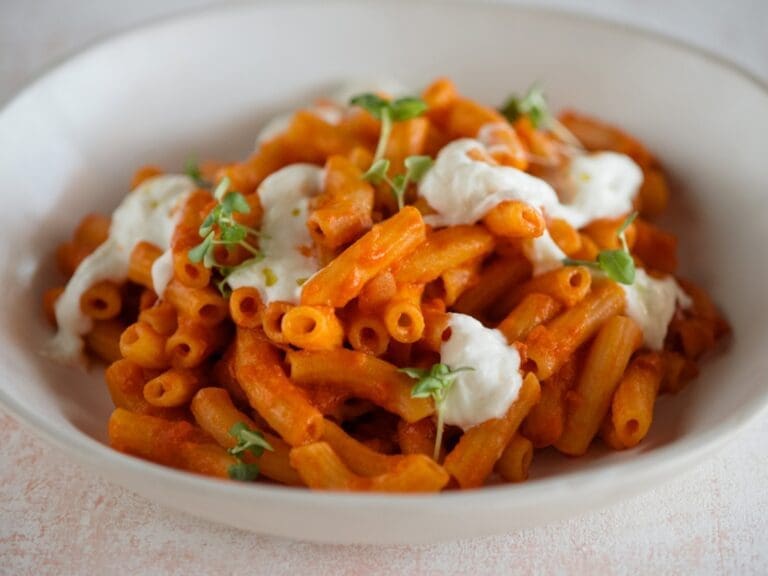 I don't currently make Tagnu myself, but at the moment I have a limited time offer for a special 'Beetroot Rigatoni' dish, which I strongly recommend trying soon if you haven't already. Here we infuse Australian beetroot juice with our magnificent rigatoni, and prepare with creamy gorgonzola, buffalo cheese, Sardinian pecorino, Parmigiano-Reggiano, and Reggiano crisps.
Alternatively, if you're visiting your favourite Italian restaurant Sydney for lunch, I make a delicious Rigatoni Pomodoro with Napoli sauce, garlic, basil, Parmigiano-Reggiano and stracciatella cheese. This one is available Monday to Friday until 3pm.
2. Spaghetti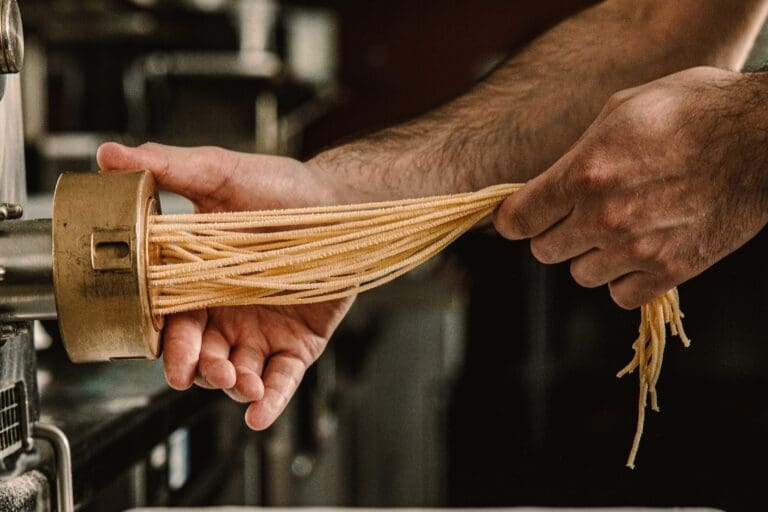 Perhaps nothing makes people think of Italy more so than spaghetti. It's the most popular type of pasta in the world and is believed to have been prepared in some form as early as the 12th century in Sicily. Its versatility makes it a great choice at any time of year, but I have such fond memories of growing up in Italy and having it with pesto and a variety of fresh vegetables during the gorgeous Spring. Even eating those sort of spaghetti dishes now really takes me back to those days; the Italian countryside is truly at its most spectacular in Spring time.
Pesto spaghetti is a fantastic meal to quickly whip up at home this time of year, but if you're looking to go out for pasta Newstead, pasta Penrith, or Pasta West End, we make a decadent Spaghetti Gamberi at Italian Street Kitchen. This seafood delight is highlighted by heavenly fried garlic prawns, along with arrabbiata sauce, chilli, roasted cherry tomatoes, capers, lobster stock and peppery rocket.
3. Ravioli
To me, there's a great association with Spring and stuffed pasta, as I see the beautiful filling being released into the world like a flower finally getting the chance to bloom. Ravioli is perhaps my favourite type of stuffed pasta and probably the most common around the world. It has origins dating back to the 14th Century, and although you can now buy it premade in supermarkets, there's really no comparison to ravioli made fresh by hand. It involves first creating a filling that is then enveloped by thin pasta dough and served in a sauce or broth.
You might find it a bit too much of a hassle to regularly prepare it by hand at home, but that's what I'm here for. If you come to Italian Street Kitchen to try our wonderful range of Spring pasta dishes, the Ravioli would be close to the top of my list of recommendations. It features a filling of lamb ragout and ricotta, that is boiled and cooked in a pan with burnt butter, sage and vegetable stock, and tossed with Parmigiano-Reggiano cheese. To top it off, the ravioli is then garnished with a red wine jus, shaved parmesan and fried sage.