Wood fire Pizza: The secret's in the name.
Have you ever wondered why some pizzas seem to taste so much better than others? Your best guess would surely have something to do with the woodfire ovens these pizzas are traditionally cooked in. I mean, we did give you a clue in the title of this post.
Why not try the best woodfired pizza at your local Italian Street Kitchen? 
What is it about 
woodfire pizza
 that makes it so irresistible?
The answer is simple: the smoky, earthy flavours of the wood permeate the soft dough of the pizza to create a unique and delicious taste that can't be replicated by any other cooking method. Not to mention, the intense heat from the fire cooks the pizzas quickly and evenly, resulting in a gorgeously crispy crust every single time.
Your modern-day, bespoke Italian restaurant Sydney won't settle for anything less than a proper wood fire pizza oven to cook their trademark pizza. Heck, even ask the chef at the best Italian restaurant in town – they'll tell you that a good woodfire oven is the key to making perfect pizzas.
The secret ingredient in all good wood fire pizza is, of course, the "wood fire". When we say "wood fire," we don't mean merely some logs burning on your barbecue – think real wood-burning oven!
Woodfire cooking is a traditional and time-honoured Italian technique for preparing pizzas. The natural flavours of the wood fire penetrate deep into the dough to enhance its delicious flavour.
The woodfire pizza ovens used in Italy are not simply designed for cooking pizzas – they're actually made of clay and stone which retain the intense heat generated by burning logs. This ensures that all your pizzas will achieve perfection, whether it's a Margherita or an Italian ham with creamy mozzarella pizza!
Check out my range of authentic woodfired pizza and book your table at your local Italian Street Kitchen.
Even Temperature means Puffier Crusts
Indeed, this is where the secret lies: the seamless balance of heat flowing into the crust alongside the warmth of the wood fire bouncing off those glorious toppings.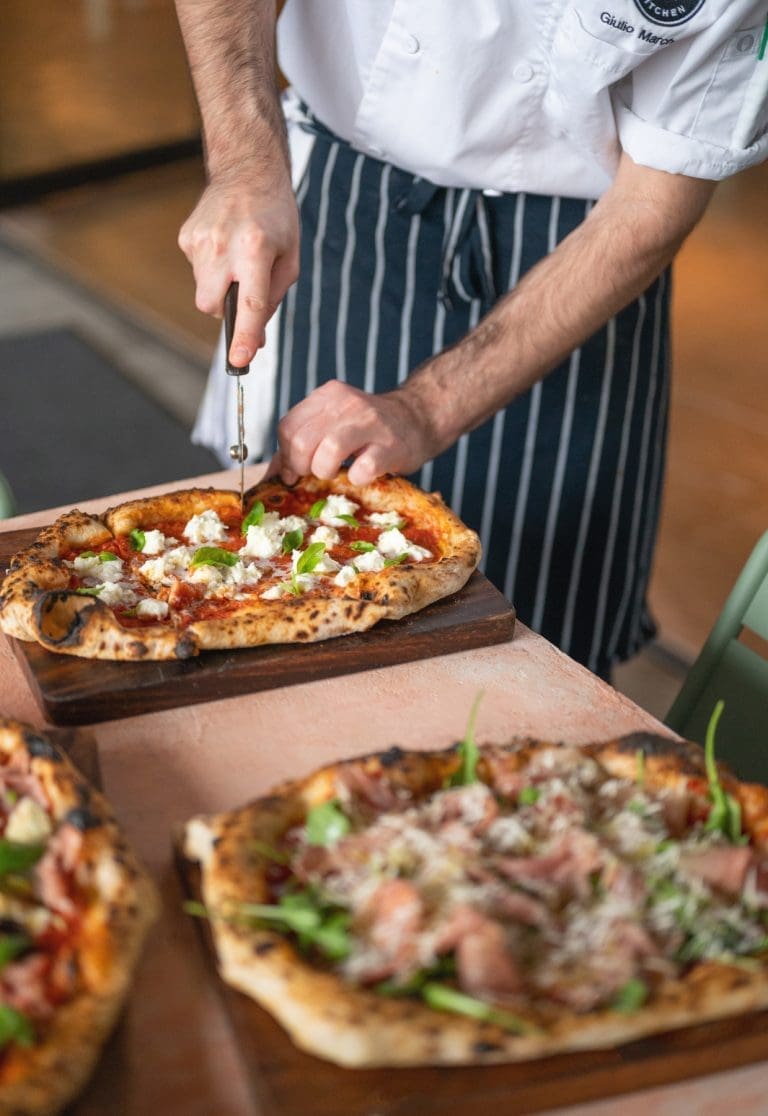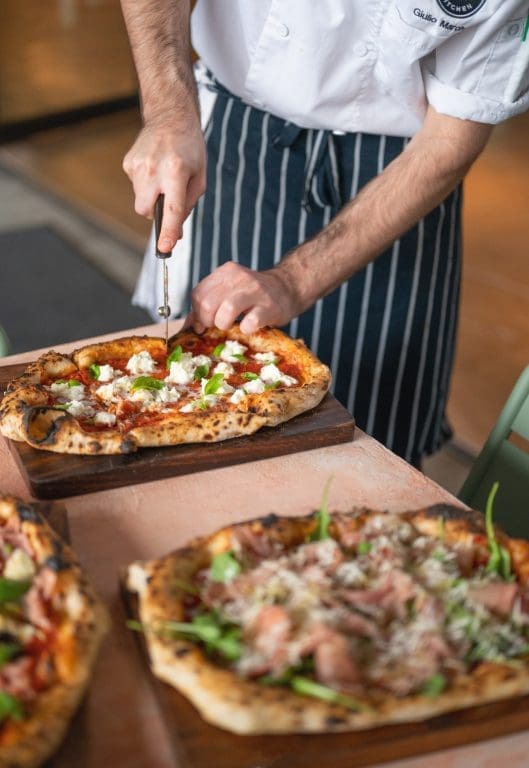 The intensity of the flames cooks the dough quickly and evenly, resulting in a perfectly crispy crust every single time – no more soggy bottoms here! The even temperature of the wood fire is also responsible for those delicious, fluffy crusts. The air inside the oven is constantly in motion, creating a gentle heat that allows the dough to rise and puff up beautifully.
With a wood fire pizza oven, you can attain higher temperatures—many chefs can attest to the sweet spot being around 450 degrees Celsius. Indeed, this method cuts cooking time in half, especially when compared to the conventional home oven reaching just around 260-280 degrees Celsius. Because of their open design and high temperature, wood fire ovens cook pizzas in only two to five minutes (depending on the dough thickness).
Come and check out my incredible woofired pizza ovens at your local Italian Street Kitchen. 
Wood fire ovens lock in the Flavour
Also known as "stone hearths," wood fire ovens can reach extremely high temperatures, as we mentioned earlier. This means your pizza will be exposed to the heat for a very short time, which results in minimal loss of juices or oils from meats or veggies.
Combined with an open flame that distributes even and consistent heat all over the surface area of the pies cooking inside it, wood fire ovens create pizzas with the most delicious flavours locked in—and we're not just talking about cheese! The hot air locks in natural sugars and preserves freshness by locking out oxygen, resulting in more vibrant colours on vegetables like capsicum (bell peppers) and tomatoes.
This means that wood fire pizzas taste better because the ingredients are not only served fresh, but they also feature a full range of nutrients and antioxidants. This is why wood fire pizzas are a tried and true favourite—they're just so healthy and delicious!
An unbeatable wood fire texture
Undeniably, the texture of a well-cooked wood fire pizza is sublime. The crispy crusts are always perfectly blistered and smoky, while the inside of your pizza remains chewy (in a good way). The end result is a pizza that is both crispy and soft, with complex flavours that are simply irresistible.
If you're looking to recreate those amazing wood fire flavours in your own home, then we recommend investing in a quality wood fire oven. Not only will it consistently create perfect pizzas every time, but you'll also be able to cook an array of other delicious dishes like roast chicken, lamb or even desserts!
Finally, wood-fired ovens make for crunchy bases that hold generous toppings better than thin-based home cooked pizzas can handle. They're more like flatbreads in this sense—and we know how hard it is to resist those!
So, what's the verdict? Are you convinced yet?
If not, maybe we should quickly recap: wood fire pizzas are healthy, full of flavour, and have a sublime texture that can't be beaten. Come on, what more could you ask for in a pizza?
If you haven't yet found the perfect place for an authentic woodfire pizza experience in Sydney – instead of typing a wildcard 'Italian restaurant near me' search into Google, why don't you give one of our pizzas here at Italian Street Kitchen a try? You won't be disappointed!
We've got your back.
Trust us when we say: once you've tasted woodfire pizza, there's no going back…