Looking for an Italian restaurant in Sydney with the best Italian dishes? At Italian Street kitchen we pride ourselves in cooking amazing food which conserves the real Italian Flavour.
Italian cuisine is one of the most famous cuisines in the world, its variety of foods is based on its regions, which all adapt different flavours, recipes and produce. Northern Italy is celebrated for their fresh seafood dishes like scallops with risotto. Central Italy is known for its simplicity and rustic style of cooking such as pasta alla Norma (tomato sauce with basil) or pappardelle al ragù (wide-flat-spaghetti served with a meat sauce). And, Southern Italy is best known for their variety of delicious seafood, abundance of vegetables and olives.
There are also vegetarian options for those who prefer not to eat meat or fish. Although most Italians enjoy eating regular meals with meat and/or fish like any other culture, they also love a wide variety of vegetable entrees that make them just as tasty. As a result, there's plenty of veggie-based choices at our Italian Restaurant in Penrith which makes it perfect for anyone to indulge in, no matter their dietary needs!
Here's what you need to know about Dining the Italian way
Order first (and second) courses before the main dish. First-course options include antipasto (like fried mozzarella), salads like insalata caprese (made with fresh tomatoes, basil leaves, cheese, and olive oil), bruschetta (basically toast topped with any kind of topping), crostini (toasts topped with more toppings). Most restaurants will also present a bowl of fresh bread with olive oil and balsamic vinegar, as an additional first course.

Then comes the primo piatto , or "first plate." That's any kind of pasta — spaghetti, lasagne (thick noodles layered with cheese and meat sauce), ravioli (tiny pasta pockets stuffed with meat, cheese, spinach, etc.). Risotto is also considered a first plate in Italian restaurants; it's made by cooking rice slowly in liquid until creamy and soft. The most popular risottos are seafood-stuffed: scaloppine di pollo al limone : chicken breast stuffed with shrimp, lemon zest, and parsley; risotto scampi: rice cooked in white wine and lobster-bisque broth that's flavored with crumbled bits of toasted bread.

Now it's time for a secondo piatto , or "second plate." That could be anything from meatballs ( polpette ) to roast duckling( arrosto d'oca ), braised beef cheeks( guancia di bue ), chicken breast( petto di pollo ) or grilled octopus (polpo ). Fish gets its own category called pesce and its toppings vary by region, but expect to see things like olive oil, lemon juice, a green herb called parsley ( piatto Primavera ), and a red sauce called sugo.

Still Hungry? Well, Italians always have room for dessert! Try our tiramisu , Gelato sandwich or chocolate caprese. Italian desserts are famous for being decadent and rich in flavour.  There is something for everyone, including chocolate lovers, fruit fans, ice cream fanatics, and even those seeking a sweet treat with a savoury twist.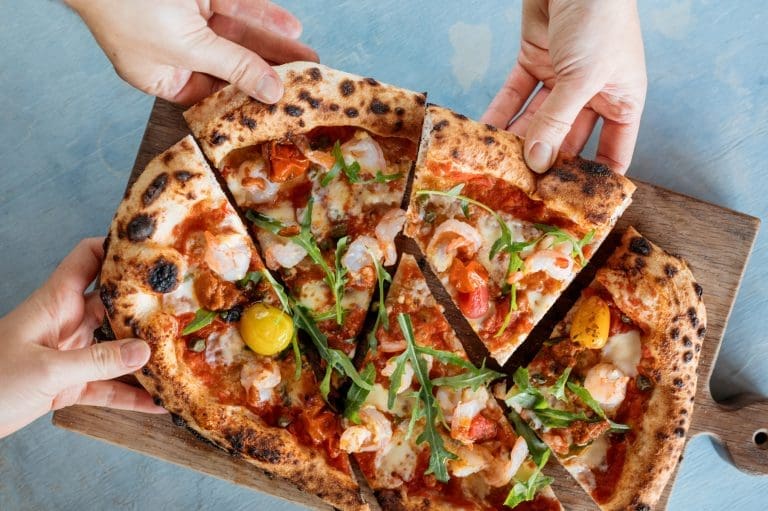 Classic Favourites
You're at the restaurant and your stomach is grumbling from the aroma of fresh produce, sauces and bread. Yet, You have no idea what to order because the options are endless. Here is a list of the most popular Italian dishes, that we believe will never disappoint. 
Pizza: 
This is probably the most famous dish from Italy outside of its borders, with more than 300 variations worldwide (not counting those created by chefs).  It can be topped with mozzarella cheese or Gorgonzola; it can also include anchovies, olives or tomatoes. And if you want to get creative – go ahead! At our Italian restaurant Sydney, we offer a wide range of beautiful pizzas, and you can even add extras! 
Pasta:
Perhaps no other dish reflects regional diversity quite like pasta. While spaghetti (with meat sauce) might be what people think of when they hear Italian food, in fact, many regions have their own signature pastas including ravioli from Lombardy, Lamb casarecce from Tuscany and Mezze Maniche Carbonara to name just a few. 
Mains:
The mains on our menu originate from various regions of Italy, all of which are so rich in flavour in their own way. We offer Pesce acqua pazza from Amalfi which is a beautiful Pan-fried snapper with mussels, lobster stock, roasted cherry tomatoes, crispy capers, Kalamata olives, garlic, chilli and seasonal herbs or if you prefer a steak our beautifully seasoned Fiorentina (Florence)
served with rosemary garlic chips and a rocket and Parmigiano-Reggiano cheese salad.
Desserts:
Gelato: Italians take gelato very seriously – only fresh ingredients (no artificial flavours here!) are used in the making of this dessert which was created when a Sicilian ice-cream maker ran out of milk during hot summer days! Even though gelato comes in various flavours like chocolate, strawberry and pistachio, a simple vanilla is still the most popular.
Cannoli: Cannoli is a sweet pastry from Sicily, Italy. It is made of fried dough tubes filled with a sweetened cheese mixture that can be flavoured with chocolate, fruit, or vanilla. The traditional filling consists of crushed amaretto cookies (amaretti), sugar and honey; newer variations include biscotti dipped in coffee cream or white chocolate ganache. Cannoli are usually served as dessert but they can also be enjoyed at breakfast time as well as a mid-morning snack or late morning meal alongside espresso coffee. 
Tiramisu: Tiramisu is made out of ladyfingers, espresso, sugar and cream. The perfect blend of creaminess, chocolate and coffee flavour creates Italy's luxurious dessert that is perfect for any palate!
The Italian Cuisine is one of the most diverse and delicious cuisines in the world. If this article made your mouth water (or if you're feeling hungry for dessert!), then we encourage you to contact us for your next great feast, the Italian way!