Luckily, those days are over ! Locals may now make restaurant booking in Sydney without restrictions or limitations; however, not all of our favourite restaurants and bars have capacity for group bookings.
To make your jam packed next few months that little bit less stressful we have compiled a list of the best restaurant bookings in Sydney with the best dining locations where you can reserve a table for 10 or more people without the limitation of space.
These amazing restaurants, with spacious open settings, crowd-pleasing set menus, and a variety of wine and cocktails, are available in convenient locations throughout the city and will go above and beyond in ensuring you, and the squad, have a night to remember.
It's quite different booking restaurants for groups than booking for yourself and a friend.
To begin, you typically start the research as you would any other time – using Google, searching things like Italian restaurants near me" reviews, TripAdvisor, Zomato, and social media.
It's easy to become sidetracked by reading customer reviews and viewing beautiful food photos. In reality, you may waste several hours just trying to find a place, and no one wants to be doing that!
Before enquiring about your restaurant booking sydney remember to have prepared the following so that you know exactly what you're getting
The number of people
Date
Time
Dietary restrictions
(and in some circumstances) Drinks
Here is a list of the best restaurants in Sydney, all with different cuisine to make creating that next booking that little bit easier!
1. Italian Street Kitchen
Our love for great Italian food starts in the heart of Rome, Naples, Sicily, Venice, and regional Italy at Italian Street Kitchen. We collaborate with providers all around the country (and beyond) to source the best stone-ground flour, tomatoes, cheeses, and other key ingredients to give you a little piece of Italy in every bite.
For us, the best Italian food combines new culinary techniques with authentic recipes passed down through the generations. That's why our restaurant menu is designed to showcase the best of classic dishes as well as modern favourites with an Italian twist.
From wood-fired Italian style pizza to fresh house-made pasta, Fiorentina steak, antipasti and small plates, each and every dish is lovingly prepared just like nonna would.
If you're looking for the best Italian restaurant with a private dining area for your next group reservation then Italian Street Kitchen has you covered!
Whether you're looking to hire a private dining space for a birthday party, anniversary, engagement party, wedding reception, work functions venue or other event, we have a range of booking options available to suit any occasion.
Our Italian restaurant Sydney is located in a variety of vibrant venues such as Neutral Bay, Meadowbank, Bella Vista and Penrith as well as interstate in a number of QLD locations!
We offer a range of function menu options for sit-down events, as well as cocktail options for more casual stand-up events. If you are looking for a restaurant booking Sydney.
Let us know your thoughts and our staff will do their very best at ensuring we deliver the perfect group dining experience for you.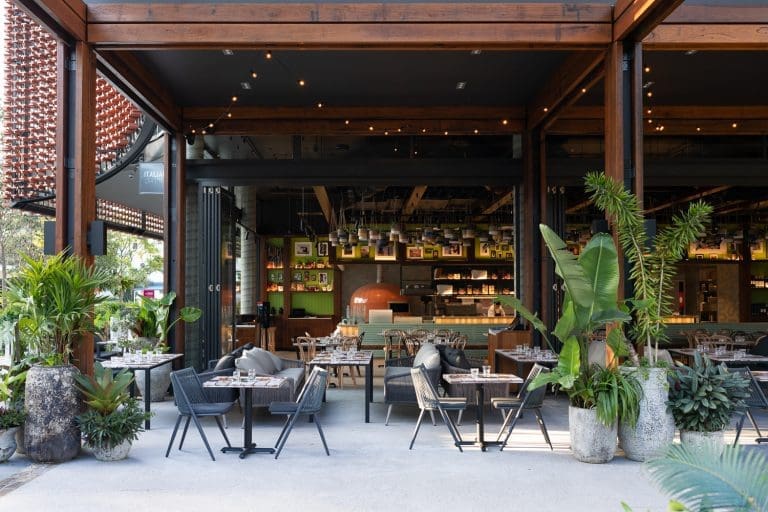 2. The Meat&Wine Co
The Meat & Wine Co is a restaurant with Afro-centric dining, where the steaks come from hand-selected farms around Australia, and the wines are as much a highlight on the menu as the meals.
Whether you're looking for small venue hire in Sydney for an intimate dining experience, or spacious venue for a large group function, the Meat&wine co can arrange the ideal space and menu to suit your needs.
Event examples include:
Birthdays, Bachelor/Bachelorette, Anniversaries, Graduation, Family occasions, kids' parties, and much more.
Locations :
Venue Hire CBD: Barangaroo
You won't find a more perfectly positioned venue for your next celebration than Meat & Wine Co Barangaroo. Warm leather textures and wood detailing are set to a backdrop of beautiful Sydney Harbour, with floor-to-ceiling windows offering sweeping views out over the water.
5 private dining rooms
Dining areas seat groups of 4 to 20
Private whiskey room available
Zoned areas for privacy
TVs available
Walking distance to Wynyard station and Barangaroo Wharf
Total capacity: 300
Venue Hire Circular Quay
Tucked away inside the iconic InterContinental Hotel, The Meat & Wine Co Circular Quay is a versatile and sophisticated venue, ideal for private celebrations or work functions. Rustic wooden features and heritage arched windows meet contemporary interior design and subtle African influences, making this a truly unique event space.
3 private dining rooms, seating 8 – 12 guests
Walking distance to Circular Quay station
Total capacity: 140
Venue Hire Parramatta
Located in Meriton Suites Church St – the tallest building in Western Sydney – The Meat & Wine Co Parramatta sits at the edge of the Parramatta River and offers enviable views over the water. The specially designed wooden abacus wall and modern décor make this a stylish choice for venue hire in Western Sydney.
4 private dining rooms, each seating 12 guests
Walking distance to Parramatta train station and ferry wharf
Total capacity: 200
3. 6HEAD
6HEAD isn't just another steak restaurant: It's an alchemy of many components emulsified to create a magical guest experience.
6HEAD is for discerning guests who want the best steak and dining experience in Sydney. It's also for people who appreciate quality, seasonal and uncomplicated food, prepared using cutting-edge culinary techniques.
Nestled in the iconic Campbell's Cove in The Rocks, 6HEAD offers a breathtaking harbour-side backdrop for a range of function options to suit all group restaurant bookings Sydney. Treat your guests to the finest steak in Sydney, alongside cutting-edge chef-curated dishes and a hand-selected wine list.
Their dining areas are designed to suit private events ranging from intimate functions to larger parties, with set menus available for group functions.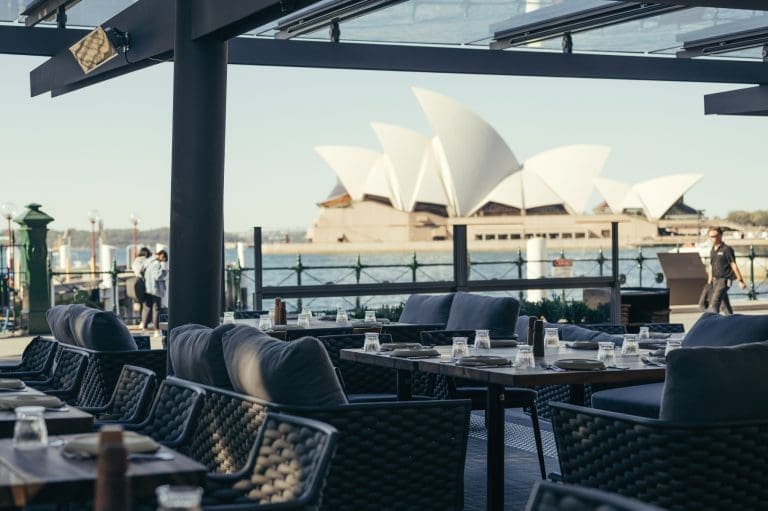 4. ALMA's Kitchen
You embark on a journey through the Middle East the moment you walk through Alma's doors. The venue offers the great Middle eastern hospitality and a menu rich in flavours.
Alma's kitchen offers a range of even spaces which draw inspiration from traditional Middle eastern culture where gatherings are about good food and company. The dining space can be evolved to suit you and your groups needs.
Take your pick from Alma's amazing banquet options, specifically designed to be shared by many.
Located in Wetherill Park.
5. Ribs & Burgers
With years of butchery experience behind them, Ribs & Burgers know what it takes to make a great burger. In fact, that's why Ribs & Burgers exists today. They were tired of seeing so many joints serving up mediocre food. So they decided to do it themselves: healthier and more delicious ribs and burgers made from quality beef and produce – but without the hefty price tag.
For a chill but mind blowing function contact the Ribs & Burgers teams at one of their many locations across Sydney.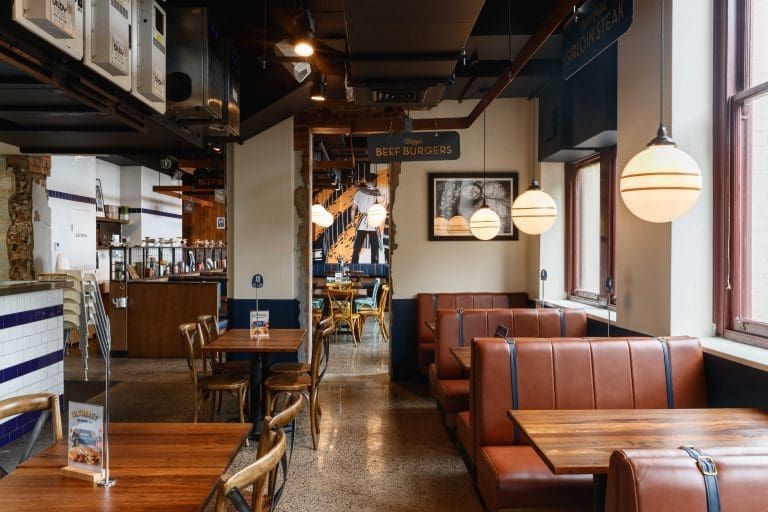 If you are looking for a one-of-a-kind experience, our top 5 group booking locations are definitely a MUST visit. With impressive menus, spaces available to cater for any needs and nights of entertainment and fun, these venues have something to offer for any taste. Whether it be casual canapés & cocktails or sit down banquets, WE PROMISE… Your friends won't be disappointed!