Isabella from Italian Street Kitchen details 10 Italian ingredients you absolutely need for your home kitchen.
1. Olive Oil
I honestly couldn't make much Italian food without olive oil, and I consider it to be the lifeblood of Italian cooking. Olive oil is in all of the pizzas at my Bella Vista restaurant, basically anything that's cooked in a pan, it's a must for salad dressings, and even just dipping some crusty bread in olive oil and balsamic vinegar is a classic Italian starter.
You probably already have a bottle but be aware that not all olive oils are created equal, and getting a high quality one is very important with Italian food; always choose an 'extra virgin olive oil'. While any oil contains a lot of calories, it's widely known to be healthy due to its high content of monounsaturated fatty acids and antioxidative substances. It can even help to decrease bad cholesterol and improve good cholesterol.
2. Garlic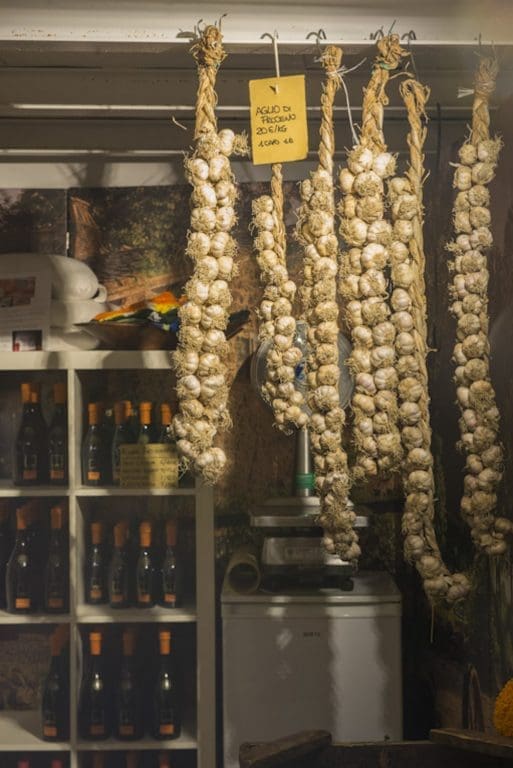 Garlic is definitely one of the most popular Italian food ingredients and just sautéing some in the aforementioned olive oil creates a beautiful cooking base that has a near infinite number of uses. The incredible smell of sizzling garlic still makes me hungry on a daily basis. I use it in most aspects of Italian cooking such as pasta sauces, to season meats, and of course in garlic bread, which when done properly is as tasty as it gets for something so simple.
 Its amazing health properties date back to when the Ancient Romans attributed it to numerous medical cures and it's still renowned today. During winter months in particular, I recommend having as much of it as possible to help with your immune defence, and it can also help your recovery if you do become ill.
3. Tomatoes
When tomatoes were first introduced to Italy in the 16th century, many Italians thought they were poisonous, but since then they have become critical to our cuisine. They're great whether raw or cooked and essential to so many pastas, pizzas, salads and stews.
You can make plenty of tomato-based dishes at home, but in the restaurant, one of the foods where the majesty of the tomato shines is my Margherita pizza. Its simplicity allows the tomato to really sing as a dominant flavour.
4. Basil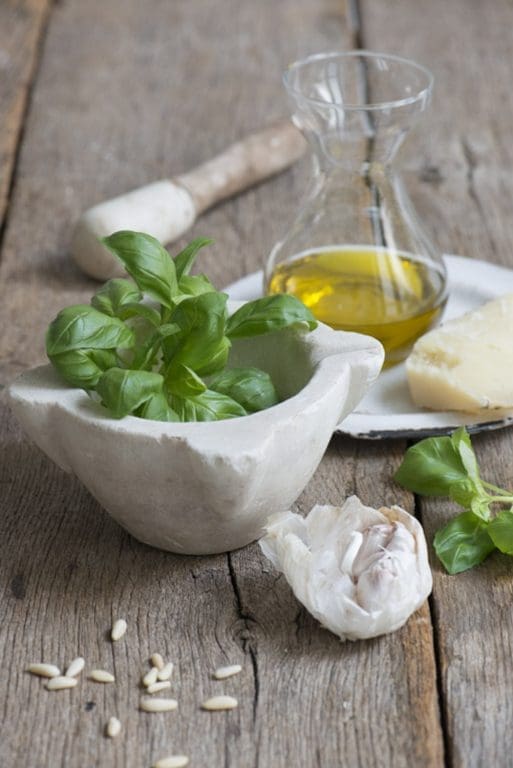 Known as the 'king of herbs' throughout Italy, it actually came to Europe via the spice trade from India
. Best when freshly picked, it pairs exceptionally well with garlic, tomatoes, cheeses and lemon. I use it in most tomato pasta sauces, as well as pizzas like Margherita, and the classic caprese salad.
One of the great things about basil is that it's easy to grow at home, so you can always have access to it fresh. Once your plant is flourishing, I'd urge you to make some pesto as it's very easy, with basil being the main ingredient. Pesto is a garlicky sauce that is extremely versatile so it can enhance a great number of homemade dishes.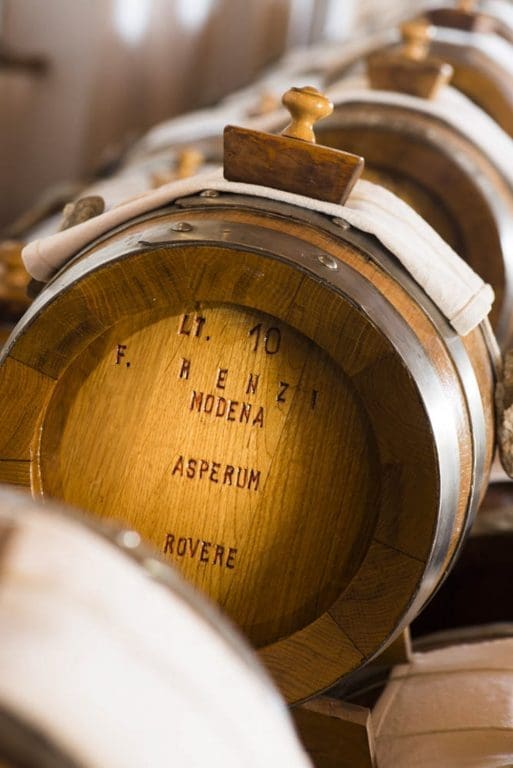 5. Balsamic Vinegar
This special vinegar from Modena in Italy is another absolute essential for your shopping list of Italian cooking ingredients. It gets its remarkable colour and depth of flavour after years of ageing in wooden barrels (I use an 8-year aged balsamic vinegar at Italian Street Kitchen). It's perfect for marinades and dressings, coming to life in my Grandiosa Beetroot Insalata, which includes rocket, baby beetroot, stracciatella cheese and pistachios with the balsamic vinegar.
6. Mozzarella
I'm sure you're reasonably familiar with this soft, stretchy cheese that melts over lasagna and pizzas like magic. Next time you're searching for pizza in Bella Vista, I'd thoroughly recommend our new Capocollo and Tuscan Cabbage option which features tomato sauce, mozzarella, fior di latte cheese, Tuscan cabbage (sautéed with chilli and garlic) and Reggiano cheese. Then after it's cooked in our oven, I top it with Capocollo salumi and extra virgin olive oil. The heat of the pizza melts the fat of the Cappocollo to give it a unique flavour explosion.
Pizza is also one of the best Italian meals to create at home so make sure you've always got some high-quality mozzarella on hand.
7. Wine
Enjoying a complementary glass of wine with your Italian food is an unbeatable combination, but we actually use a lot of wine in our cooking too. An important note is that we don't believe in cooking with any wine that isn't also great to drink; always choose a quality one rather than the so called 'cooking wines' (as a bonus it's a good excuse to finish off the bottle when you're done cooking with a great wine). I use it in pasta sauces, stews and to make a lovely red wine jus that I serve at the restaurant in a number of meat dishes like Bistecca and Porchetta.
8. Mushrooms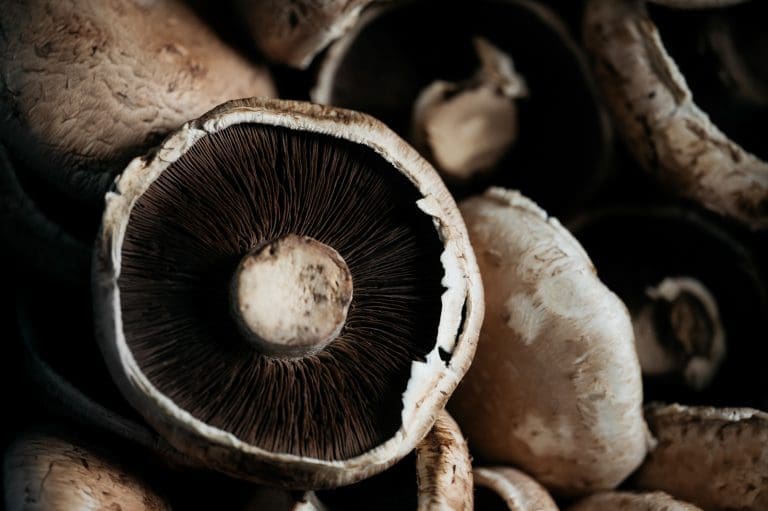 Mushrooms are an important part of Italian cuisine and perfect for adding a 'meaty' type character to vegetarian dishes. Porcini is the most common variety in terms of Italian ingredients, but I also regularly use Portobello, enoki, oyster and pioppini in the restaurant. You can use them in most Italian meals including risotto, pasta and pizza to name just a few.
9. Lemons
From sweet to savory, lemons can add tremendous flavour to an array of Italian foods, making them a great ingredient to have in your kitchen. It's not just the juice either, lemon zest can add depth of flavour in dishes you wouldn't think of such as my Mezze Maniche Carbonara, which is a favourite recipe originating in Rome. Next time you visit Italian Street Kitchen, I'd also recommend trying my Limoncello series of delicious, refreshing cocktails.
10. Prosciutto
Prosciutto is perhaps the most popular of the Italian dry-cured ham products, and it sometimes takes years of ageing to produce this salty but delicately sweet delight. It's always one of my highlights in antipasti, but can also jazz up just about any pizza or pasta dish. I recommend using almost paper-thin slices to get the best prosciutto experience.