Isabella from Italian Street Kitchen recommends 10 amazing pasta bake recipes to make at home.
From the wonderful aroma coming from the oven to the warmth of every satisfying mouthful, there's no better comfort food than Italian pasta bake. I've found Gourmet Traveller to be a terrific resource for delicious Italian dishes you can make at home, so I thought I'd recommend some of their pasta bake recipes.
Despite not being as well-known as some other types, paccheri is one of my absolute favourite pastas. According to legend, Sicilian sfogline (pasta artisans) created this large, tubular pasta during the Middle Ages to transport Italian garlic into Prussia. Italian farmers would hide 4-5 cloves inside each piece of paccheri and smuggle it across the border.
It's perfect for this delightful chunky sausage dish, where you stand the tubes upright and stuff them with the incredible sauce. This allows each bite to combine the optimal mix of pasta, sauce and cheese.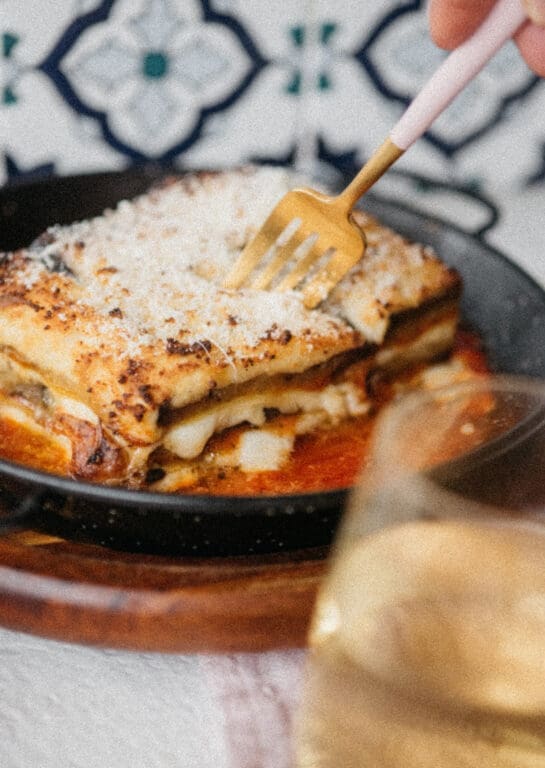 Unlike paccheri, lasagne is very well-known all around the world, and there are few things I find more warming and comforting during winter. This Italian baked pasta dish has a heritage as rich as its glorious flavours; originating in Naples during the 14th century. Although there are many variations, this gorgeous recipe will make everyone happy with the inspired inclusion of pancetta, as well as white wine, and a combination of minced veal and pork.
Want to try freshly made pasta at the best Italian restaurant?
It's no secret that I love mushrooms, so this is a recipe that I find particularly mouth-watering. Ideal for winter, it utilises a fabulous mix of fresh mushrooms, as well a dried mushroom combination to amplify the flavour. This baked rigatoni dish also features fontina; a remarkable Italian semi-soft cheese that never disappoints.
This is a fantastic Italian take on the traditional Greek dish, spanakopita. You get all the green leafy goodness of silverbeet and spinach combined with a symphony of flavour from garlic, spring onions, lemon, and a sumptuous mix of cheeses. It's then tossed with fusilli pasta and baked with filo pastry for a decadent comfort food you really must try.
Prefer to join me for a meal? Check out our menu!
This is a truly luxurious pasta bake like no other; boasting sweet, succulent chunks of lobster meat generously scattered throughout. The jumbo shell-shaped pasta has been carefully selected to cradle the fennel-infused creamy sauce perfectly. I love how well the crème fraiche imparts a delightful tang, while the crunchy topping of lemon-infused breadcrumbs provides just the right amount of texture.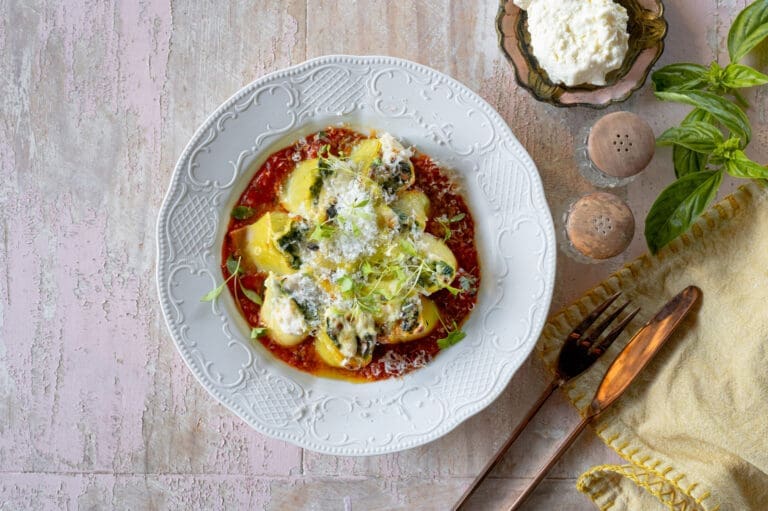 Cannelloni is another classic baked dish that always brings back memories of my childhood in Italy; I've searched far and wide but I'm yet to taste better cannelloni than my nonna made. However, this authentic Italian pasta bake recipe is still outstanding, using a superb combination of beef mince, spinach, ricotta and Parmagiano-Reggiano cheese with the cylindrical pasta. I'd thoroughly recommend it if you're having some dinner guests you want to impress.
I thoroughly recommend this succulent Roman-style gnocchi that is rich with the sharp flavour of cheddar, making it an ideal side dish for robust stews and roasted meats. However, it's so tasty that you might want to forget about a main and keep eating the gnocchi until you can't fit anything else.
Reserve your table online now!
This is a particularly fancy pasta bake recipe highlighted by quail eggs, veal meatballs, and rigatoni coated in a fresh Napoletana sauce. It takes around two hours to make but the result is a visually stunning pasta dish that tastes just as good as it looks. This is an excellent choice if you're hosting a lavish party or special event.
Cauliflower with cheese is a popular pairing all over the world, but this recipe delivers a marvellous Italian twist to make it a beautifully sophisticated meal. Underpinned by the tremendous strozzapreti pasta, this extravagant dish includes pecorino and gorgonzola cheese, hazelnuts, butter, and plenty of cream, so if you can't handle rich foods, you might find it too much. If you're like me however, you'll enjoy a large serving with a quality chardonnay.
Another delightfully rich pasta bake Italian style, this dish is filled with mushrooms and silverbeet which combine perfectly with the parmesan, goat's curd, and generous amount of cream. I love the inclusion of breadcrumbs, while the toasted-flour gives the pasta a wonderful nutty flavour.
If you'd prefer that I cook some delicious pasta for you instead, book your table at my Italian restaurant Sydney today!